In Washington State, it is mandated that environmental education be provided to 4th and 5th graders – but it is not funded. When Paul Brainerd (who coined the term "desktop publishing") sold Pagemaker to Adobe in 1996, he and his wife Debbie Brainerd used part of the proceeds to purchase a 255 acres undeveloped parcel, which with forethought in mission and detail, has become IslandWood, which opened on Bainbridge Island, WA in 2002. He also funded an endowment for scholarships and maintenance of grounds and facilities which maintains it's pristine environment. (Wise man). The ongoing program is funded through private fundraising activities.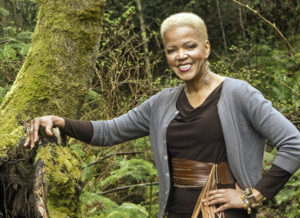 I'm a proud new docent at IslandWood on Bainbridge Island WA. Along with 9 others (identified at page bottom), our eight 3 hour training sessions end March 23rd. IslandWood is an acclaimed environmental learning center which provides environmental education to approximately 4500 4th and 5th grade students each year, on its Bainbridge Island campus.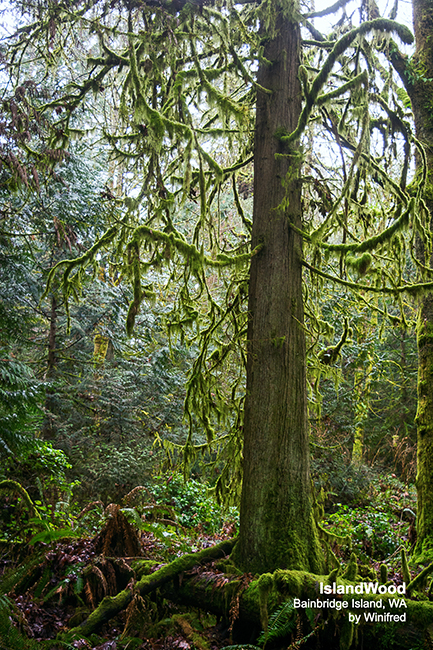 Most of these students come from Kitsap County and the Seattle/King County area. IslandWood's Student Overnight Program is a fun and learning filled 3 nights and 4 days of immersed experience designed to facilitate a consciousness and stewardship facilitating a greater interconnection to the natural and urban environment. Using the experience of observation, caring  and awareness of our interdependence, is a key theme?  Children are supported in their critical thinking to make this connection, no matter what environment they return home to.
The campus is private but public tours can be scheduled. I will be involved in conducting public and event tours. What a magnificent natural environment and amazing 70,000 sf of environmentally conscious facilities including a 16,000 s.f Welcome Center, dining hall, classrooms, dorm/overnight facilities and other structures.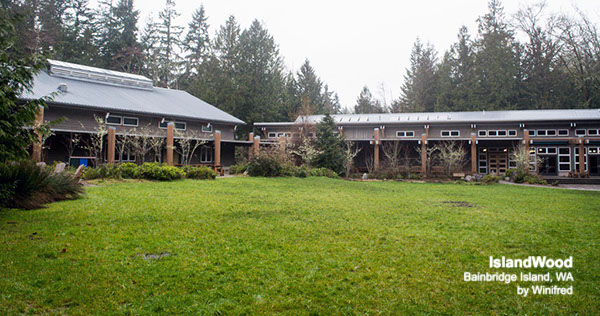 I am very please to be able to play a small roll in support of this program. The forest, bogs, pond, bird sanctuary, suspension bridge and canopy tower featured in these photos are but some of the features of the campus. The video link below provides additional info about the program."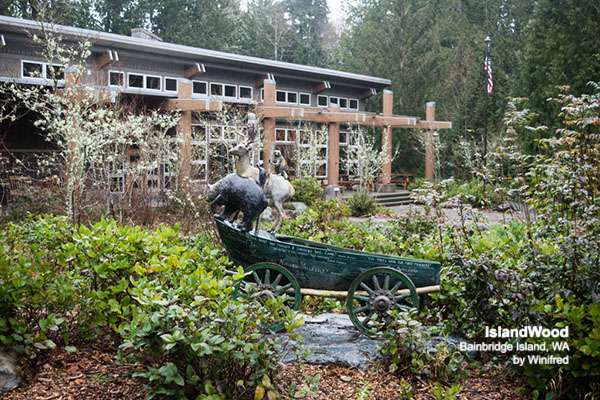 `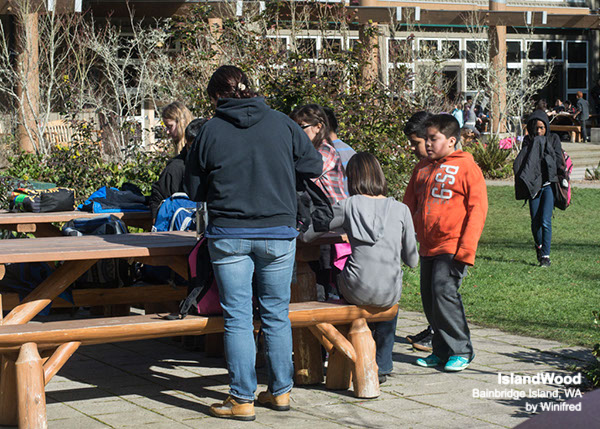 Taking a lunch break – nutritious meals and snacks are served each day. Allergies and cultural food requirements are carefully managed.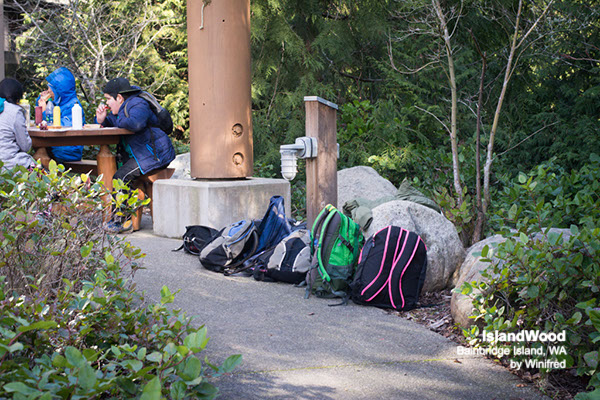 A backpack filled with outdoor essentials is provided by REI for the 3 night stay.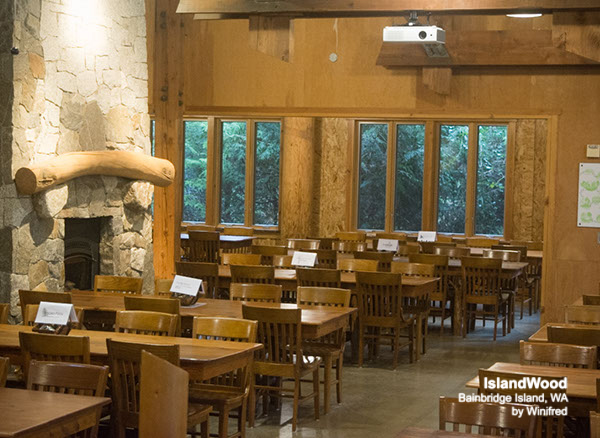 There is a warm and inviting dining hall where all eat together family style. The food is delicious – I might add.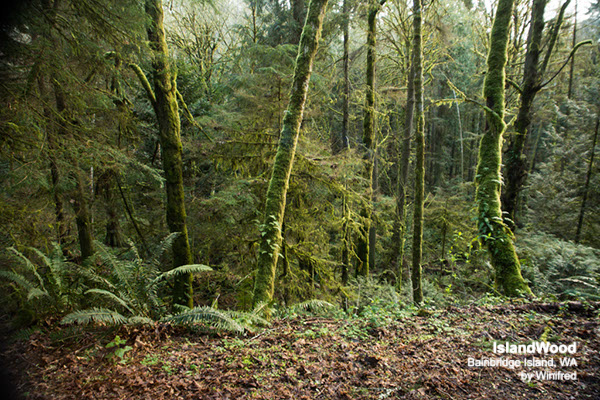 There is abundant opportunity to explore and observe the natural forest environment – from the forest floor to the forest canopy. In addition to the forest, there is a bog, a swamp, a lake and streams – so many distinct eco systems and layers to the forest to learn about. 
~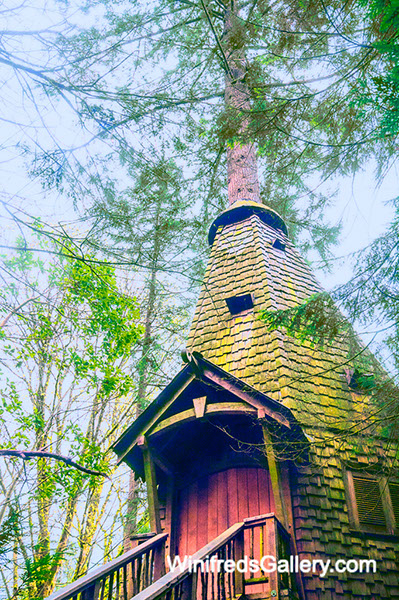 This treehouse serves as an observation deck, looking out over a wetland.It is built around a tree which is 190 feet tall. You can see in the subsequent photo that it can still move and sway, even water comes through the treehouse so as not to create a dry area beneath it.
`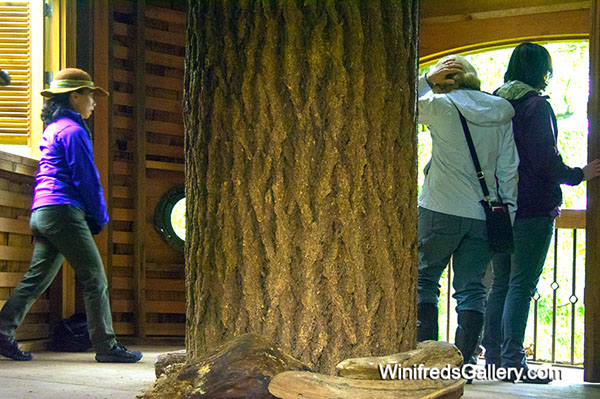 The above photo  shows part of the interior. You can see that it is a large tree.`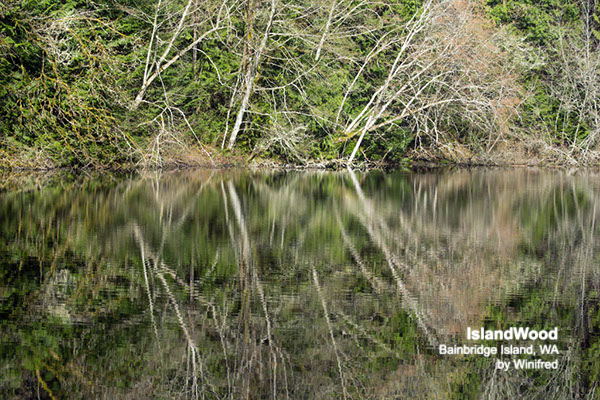 A pond teaming with water life.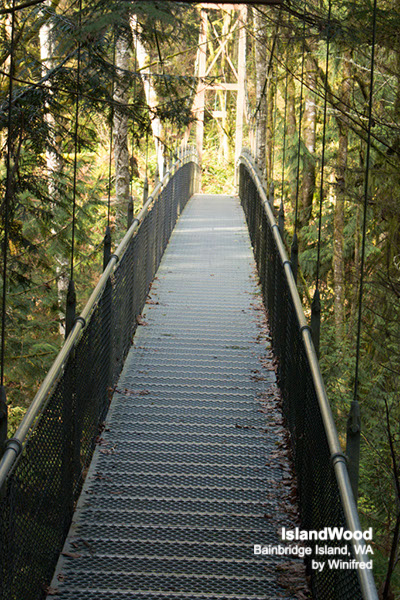 A 190 foot suspension bridge places you well above the forest floor. Click Here to see a  short video on the building of this bridge.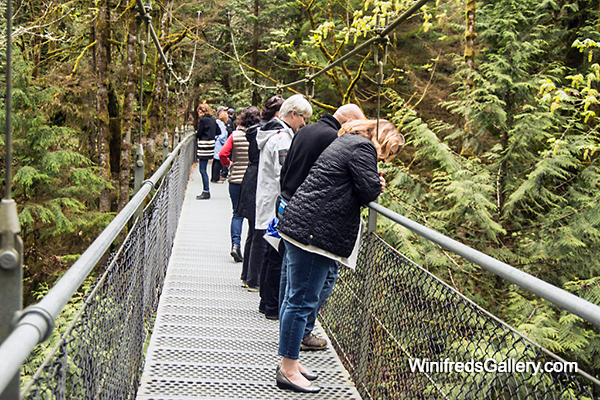 Ascend the Canopy Tower to observe  the forest canopy – the equivalent of about an 11 story building – so many teaching moments here. Click here to learn more about the building of the Canopy Tower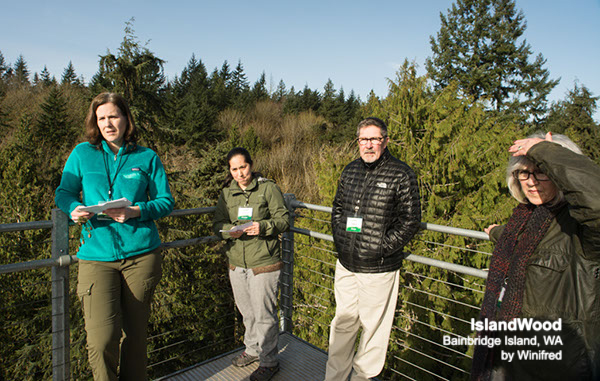 At the tower look out, Mary Meiser, (left), Volunteer Coordinator, shares information with docents about the forest canopy.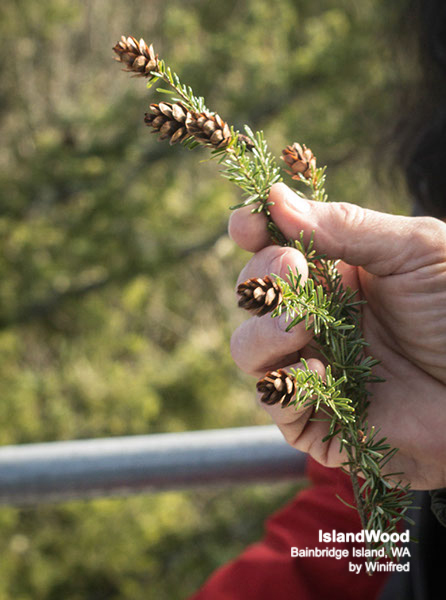 Observe –  identify.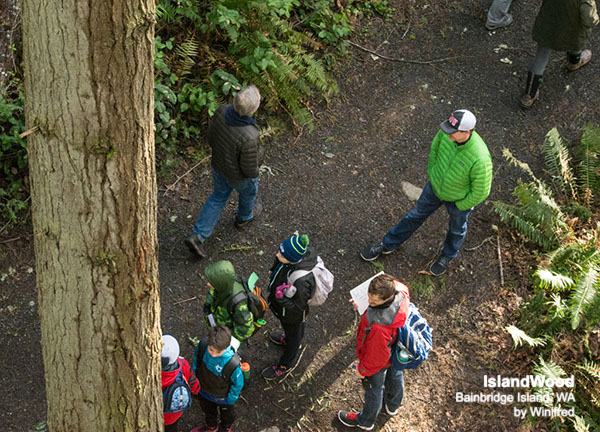 Students in the this weeks School Overnight Program await their turn to ascend the  Canopy tower. They are very excited to do so.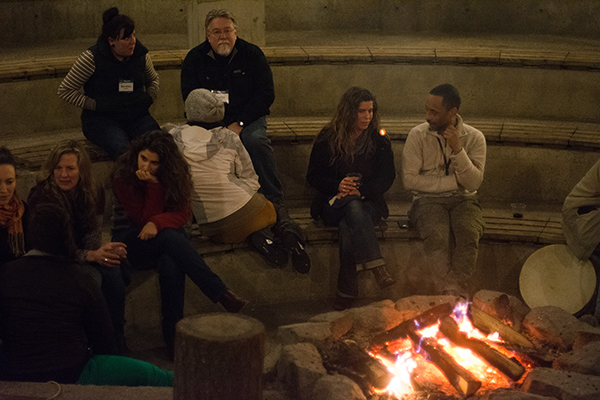 "A circle around a fire"  – but a bit more developed!!  Still, it's a place where students meet each night  with their instructors and chaperones to sing, hear stories and reflect upon the day. Adults also use this area during scheduled events.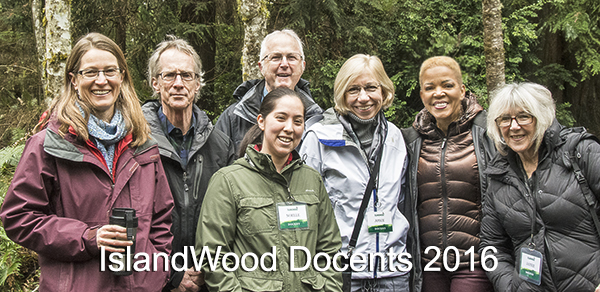 Other Docents in the 2016 class, in no particular order, include: Noelle Hart, Lana Fuller. Andy Hicks, Janie, Joyce Popendorf, Bret Black, Frank Gremse, William Popendorf. Mary Meiser is the Volunteer Coordinator.
Click here to Visit the IslandWood website
Click here to watch 23 minute presentation to parents and children – what to expect at SOP – Student Overnight Program