The Silver Coffee Pot
It's been less than a month since I started my journey with oils. I've learned so much with there was so much more to know and I had questions. I wanted assistance from a live artist – outside of YOUTUBE. I contacted local artist extraordinaire Robin Weiss, a full time successful professional artist and ask if could provide some assistance. He's a "plein air alla prima" painter. . I got to see and ask about everything. He's been an artist for 35 years, with a great deal of experience and information. I purchased a studio workshop from Robin and two days later we were meeting in his studio.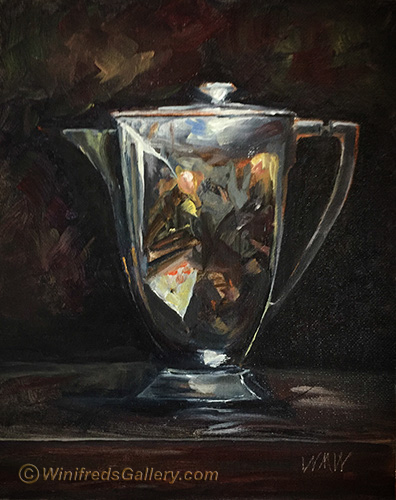 Many of my questions had not to do with putting brush to canvas, but learning how colors mix, what various paint mediums do. (Mediums are the various products available to give more spreadability, translucency, texture, thinness etc to the oil paint which is pretty dense.) One has to learn about types of brushes available, how they perform and how to care for them. There are various grounds to paint on, including canvas, masonite, wood etc, including creating your own. I wanted to know his choices.
The time I spent in our workshop was incredibly valuable. We mixed colors – one of the single most important skills to master, we looked at the particulars of his studio setup, explored his choice of products for everything.
On that first day, he chose to demo one of his favorite objects for this kind of practice. He would create a demo painting, then I was to paint it. As soon as he set up his shiny silver coffee pot, reflecting "everything in his studio", I thought "I'm not doing this!! He did not set up a reflective metal object with an apple or orange reflecting in it. He set the shiny silver object high in a way which reflected everything in the room!! I said I would try it at home, but the fact is, I didn't want to do it – I was not inspired. I took a few photos to take with me to try – maybe!!
It's not that it was too hard to paint – though certainly not easy – I just didn't want to do it and when back home, I gave myself permission not to do this practice. However, about 10:30 p.m. I thought I could a least do the tonal study underpainting – and reluctantly proceeded to do so. 45 minutes later, I thought "perhaps I could add a little color"…… That was the list of death. At 1:30 a.m. I stopped painting. It was not a final version you see here, but the reflections, the hardest part were pretty much done. Since that time, I did completed my painting. I may make some changes to the background.
The following day, his demo was a Seattle street scene, with several people about to cross the street. He created a sketch, which he modified for his purpose, did an underpainting and full painting in less than 2 hours. Alas!! I have a new assignment now, a street scene but I can relate to this and look forward to completing. Actually, I've decided to paint a portrait. We will see!
If you have not done so, Please add your email address to receive notification of my not too frequent but I hope interesting postings.