The Silver Coffee Pot
Recently, I purchased a studio workshop from Robin Weiss, a well, known and accomplished local artist. I had questions. Two days later we were meeting in his studio.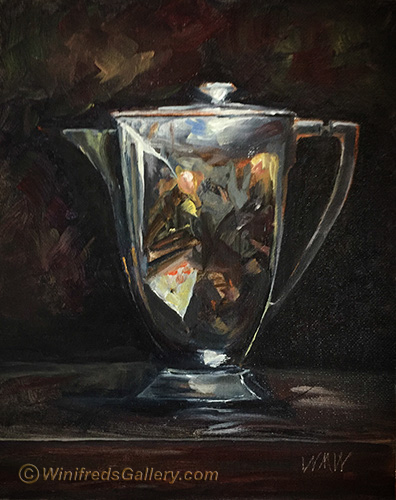 Many of my questions had not to do with putting brush to canvas, but learning about oil paint itself, resources for brushes and mediums, grounds to paint on, including canvas, masonite, wood etc, including creating your own. I wanted to know his choices. Having been a digital painter for years, these had not been my concerns.
The time I spent in our workshop was incredibly valuable. We mixed colors – one of the single most important skills to master, we looked at the particulars of his studio setup, explored his choice of products for everything.
On that first day, he chose to demo one of his favorite objects for this kind of practice, afterwards, I was to paint it. As soon as he set up his shiny silver coffee pot, reflecting "everything in his studio", I thought "I'm not doing this!! He did not set up a reflective metal object with an apple or orange reflecting in it. He set the shiny silver object high in a way which reflected everything in the room!! I said I would try it at home, but the fact is, I was not inspired. I took a few photos to take with me to try – maybe!!
It's not that it was too hard to paint – though certainly not easy – I just didn't want to do it and when back home, I gave myself permission not to do this practice. However, about 10:30 p.m. I thought I could a least do the tonal study underpainting – and reluctantly proceeded to do so. 45 minutes later, I thought "perhaps I could add a little color"…… At 1:30 a.m. I stopped painting. I completed my painting and I like it.
Please subscribe to my blog if you have not done so for weekly post. Winifred