Traditional Oil Still Life Paintings
The Beginning!! You can watch me progress. I created these paintings during the past 3 weeks. Really, oils out of tubes!!! Some paintings have turned out better than others – no surprise!! The first painting which you see was my first oil painting. I actually destroyed the canvas but kept this photo of it. Fortunately, I photograph various stages of a paintings development. This was a very early stage of the oil painting. I kept painting and painting until ultimately I ruined it. It was not worth the time to try to recover it – I just threw it out. I'm glad I had such an early lesson on the detriment of overworking a painting.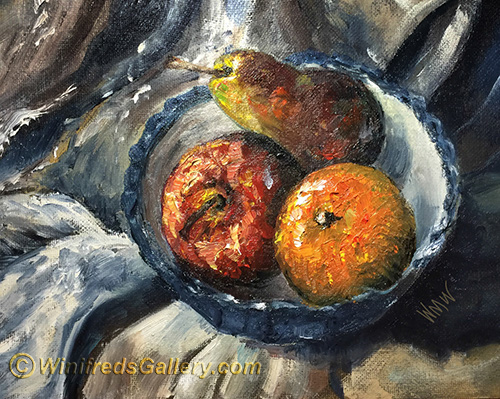 Above – My first oil painting – I can see plenty that's off – but it is what it is!!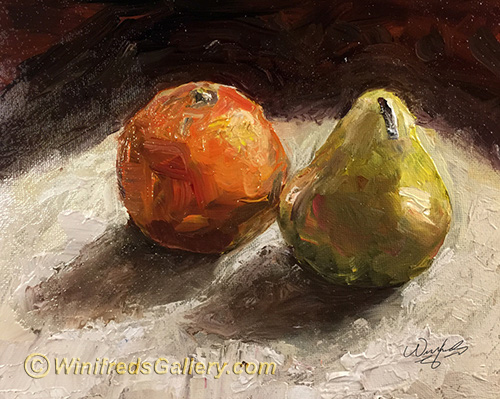 Lighting is one of the most important aspect of creating a still life, Having a few fun items to paint is important as well. Almost anything can be interesting if well lit. I have used both daylight and artificial light as a source. I plan to create a video showing how I created a three sided and 4 sided "shadow box". It's pretty much as easy as lying a box on it's side and cutting out the top so light can come in – I build a shadow box which is a bit more substantial as well. I then placed a light to one side of the box, so it can cast shadows for a dramatic light effect. Daylight can also serve as a beautiful light source. I used daylight for the above painting of the orange and the pear.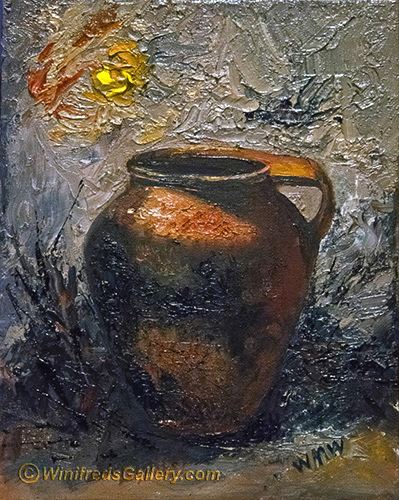 I continue to enjoy lots of texture in my paintings, which I create allowing my brush to "dance" as I paint. Pretty fun. It's all experimental at this point. Most of these paintings are 8×10.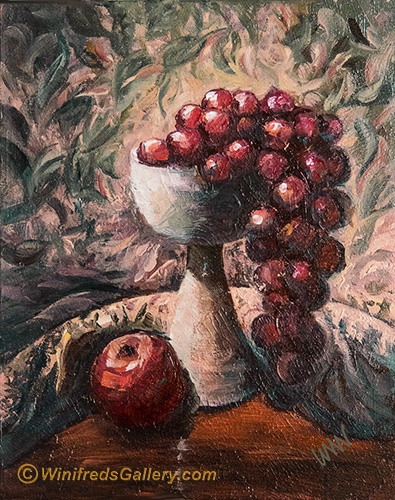 It also gave me practice in painting grapes. I paint almost everyday – stoping for a day only when I burnout, before proceeding again. It's really difficult sometimes to get color accuracy photographing paintings – some more so than others. I enjoy the richness of the painting above – but this digital file does not reflect the color accurately.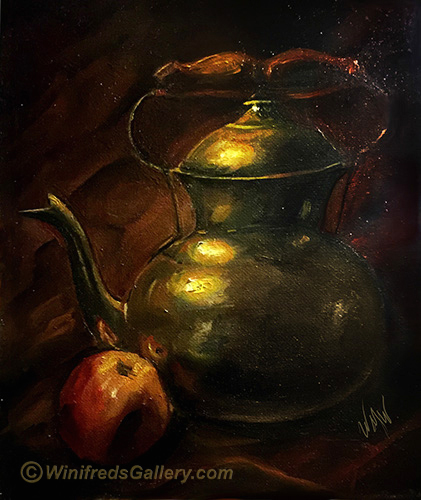 Above – my first attempt to paint brass. I will certainly create more.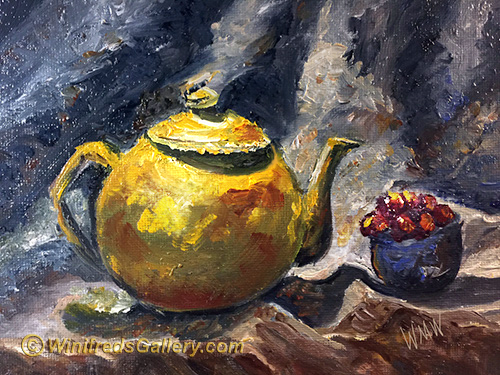 A bit muddy. Some paintings just don't work out as you envision but one always learns something. I will post my progress regularly.
Related Images: