Oil Painting 9×12 Oil on Gessoed Board -"Girl with Big Eyes"
I created three paintings this week. They are all very different.
I keep wanting to make this girls eyes exactly the same – but the fact is, I don't think anyones eyes are the same. – so I resisted. I do enjoy the emotional content of this painting – the near sadness of he large eyes.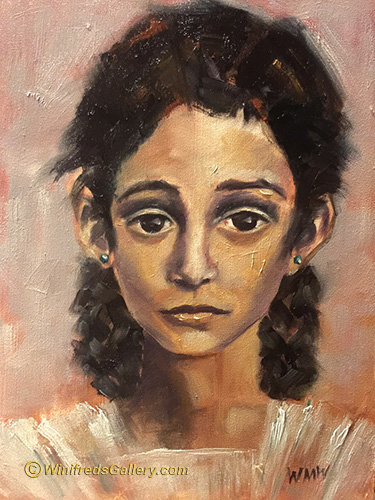 Oil Painting on 8×10 Canvas Board – "Girl Sitting on Steps"
Photo Reference by Winifred
You may or may not know that when we paint children often make them look older than they are. We narrow their chins, gives lips too much color and make eyes too dark. I found myself doing all of these things. I did attempt to correct for this – somewhat. See below – dark eyes, red lips. I didn't try hard enough.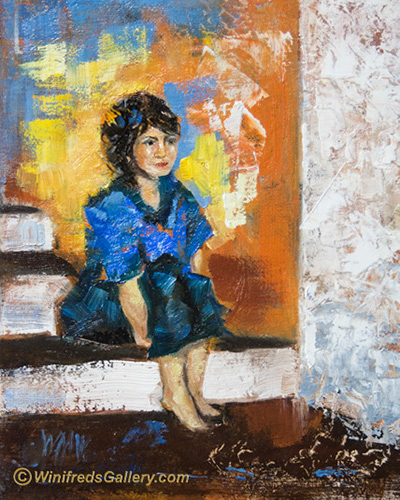 The photo reference for painting above – Daphne and Art Carlyle.
~~~
Below – Oil Painting on Canvas – 6×8 – "Girl with Subtle Face"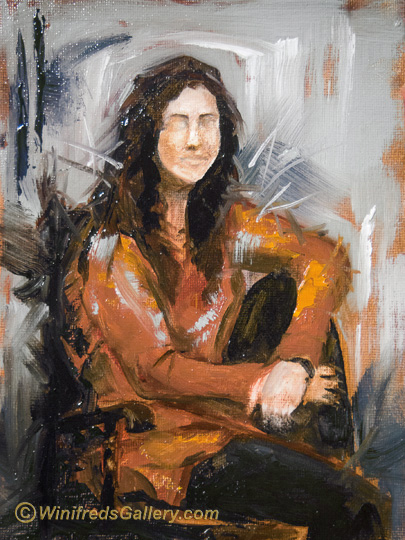 Photo Reference for Painting – by Winifred
Finally I've given myself permission to create a painting with only a hint of a face. This was not a large painting – 6×8 canvas. trying to create feature detail was challenging. I did so but didn't care so much for the expression. Finally, I painted it out. I like the painting so much better with no appreciable face.