Suspending Judgement – 8×10 Oil on Canvas
We're so hard on ourselves, always wanting to get it right, the design, the color, the brushstroke, the values. perhaps you'll wonder if others will like it. What if we suspend this brainwork and jump into bonafide play – just throw some paint around. No one else needs to see it. Tell the brain to take a rest – you won't be listening – and you're doing it just for your self!! Digital or traditional painter – it won't matter. That's what I did to create this painting.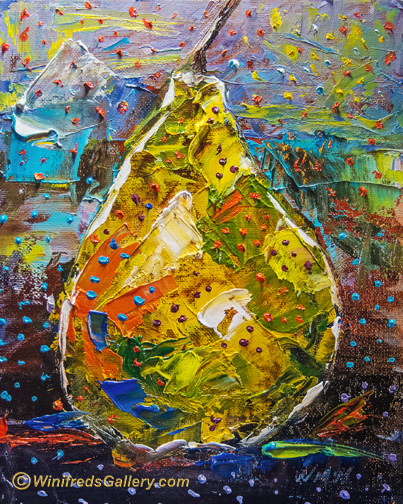 It was fun. There was no thinking – no right or wrong. I wanted "to do" and not "to think" about it. Lets face it, some of what's been learned always shows up a bit anyway. You cannot teach yourself "not to walk" – you just do it. Your painting should take not more than 5 to ten minutes. Try to paint quickly so you don't have time to think.
For this painting, I only used the left over, already mixed oils on my palette, limiting my color choices and I started "plopping" on paint with a palette knife. Who knew where it would go – there was no plan. Remember, NO THINKING – just play! We all need to play. It's amazing the part of yourself you might discover. I had no idea there would be polkadots all over. Never did I DECIDE, "I will put dots all over". I put a few on the upper part of the painting with the end of a brush, then a few more and a few more. I did think it was pretty cute however.
Funny, I usually do my wildest painting experiments using a pear as subject. I don't have to think about creating a pear shape. You might want to create something different. I had a student say she didn't want to paint a pear but she would paint and apple. Okay, apples are cool and anything else!!
Since you're here and we're looking at pears. I'm going to show you another painting. Below is the second oil painting I ever did. I thought it was ok – for learning to use oils.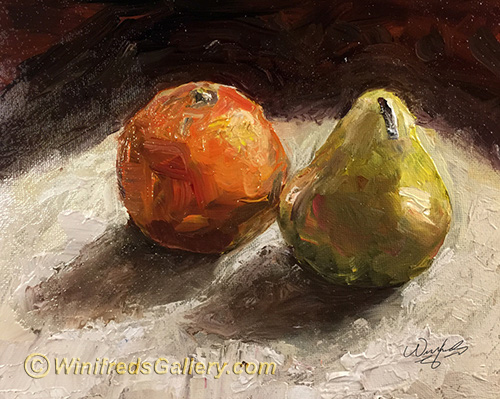 Now, 6 weeks later, I decided to paint from the same reference photo again – it's simple, fast and just practice. This time I did a value sketch – I don't think I did that for the first painting and it's vitally important. Then, I added paint to it. There's a big change from my initial painting. I thought you would enjoy seeing the change.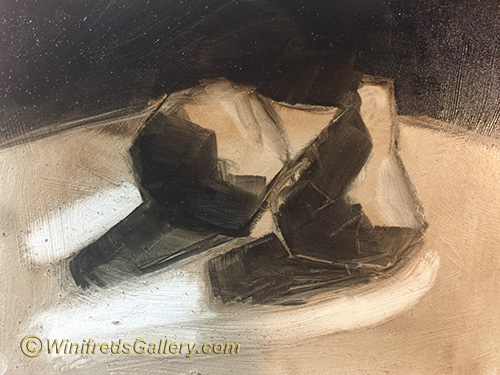 I'm sure I will paint the reference photo again in a few weeks ti see if I can't take it in yet another direction. Thank you for taking a look. Winifred
I'm painting far more than I anticipated and hence posting more blogs. If there are too many – do let me know. You can also unsubscribe but I would hate to loose you. Winifred
Related Images: