Yellow Flowers – 9×12 Oil on Gessoed Board
I had a different painting in mind when I started – the sketch below makes that pretty clear. The change was even more radical than is apparent. I set up a vase of flowers which had two yellow, three red and three deep purple flowers in it!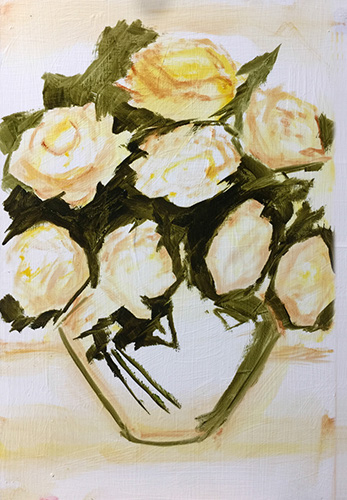 After I completed my sketch, I ruffed in the shadows, and began extending the energetic brushstrokes to the edges. I decided it looked like foliage and kept it.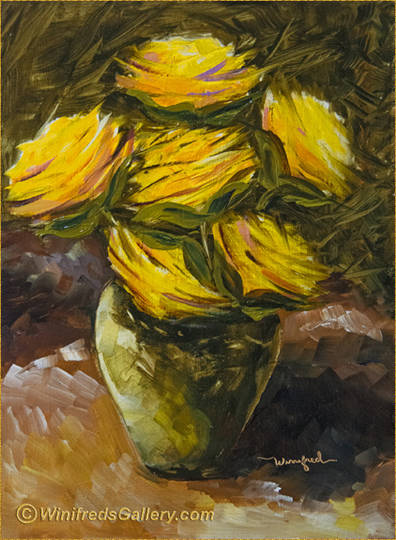 I added highlights and shadows using dancing brushstrokes to the lower background and foreground. It started to come together. Some how, I didn't want all the colors in the vase. I decided on yellow flowers only. I added my yellow flower along with a bit of hue changes in the same brushstroke style I'd been using throughout. I then began to focus these strokes to giving abstract definition of flower structure.
I liked the painting at this point and could have left it but I wanted a greater sense of dimension which I would only get by affecting the hues and tones of shadows and highlights. Below, I have added purple, and muted dark blue glazes to various areas along with impasto to pop the highlights and a twining vine. With that, I could call it good. I will know after I look at it over time. I can always make some changes if necessary. Hope you enjoy! Winifred
Related Images: