There are so many ways to paint hydrangeas and hydrangea still lifes. I've tried quite a few. They are challenging with all the little cluster petals. There are those who paint the little 4 petal clusters all over.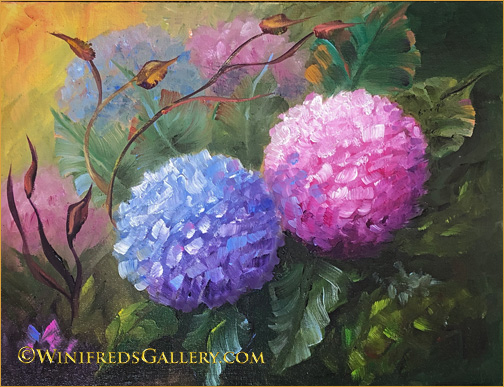 That's more detail than actually interest me. If anything I want to become more more loose – more abstract. I'm going to work on that. But for now, here are a few examples of work I've done recently and one hydrangea painting from a year ago. One painting I created and then scraped all the flower heads back to repaint. I thought I'd put them all together.
I like painting above but find it a bit too "sweet" and whimsical for my preference. Below, though very accurate colors for the petals, I fond them distracting for the overall image hue. They had to go.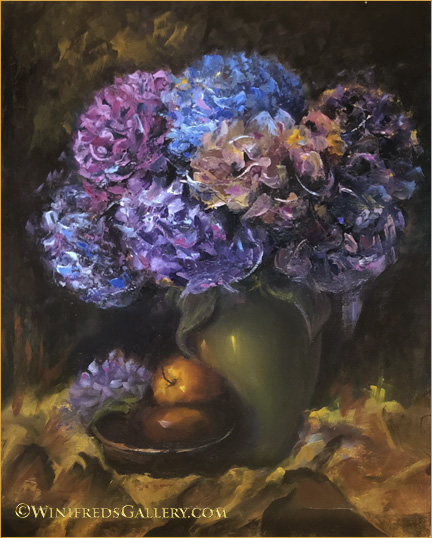 I also decided the flower heads above had too much texture, saturation and contrast. Better to scrape off the heads and redo them. (not shown) I did that but still wasn't happy and redid them again. – see final below – or is it!! I'b always good for a redo, if over time, I. am not happy and there remains some significant portion of the painting I like.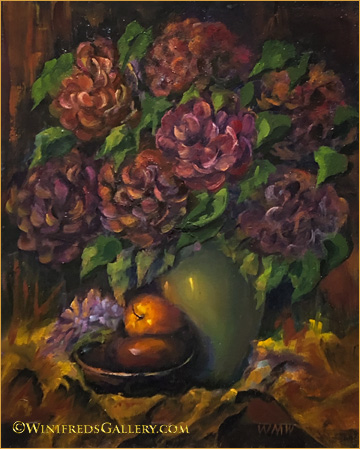 The colors harmonize better and I like having foilage but they don't look like hydrangeas. I will redo at some point.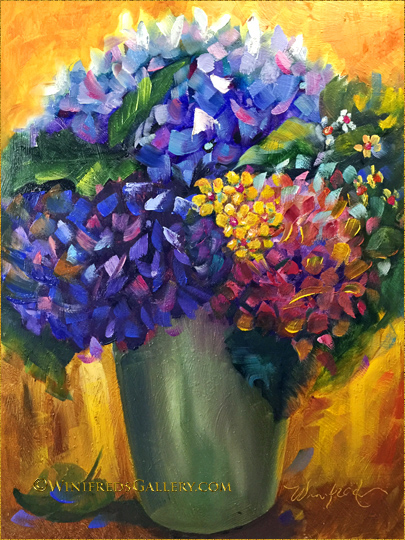 I painted the above painting more than a year and a half ago when I was just getting started and trying to work out what a hydrangea looked like – how to paint all of those little petals but NOT!
I thought you might enjoy seeing the struggle! Hope you're enjoying your summer. Winifred