Roses are hard to paint – I think I said that before. I wanted to become more comfortable painting them – hence, I continue. I'll change subjects pretty soon.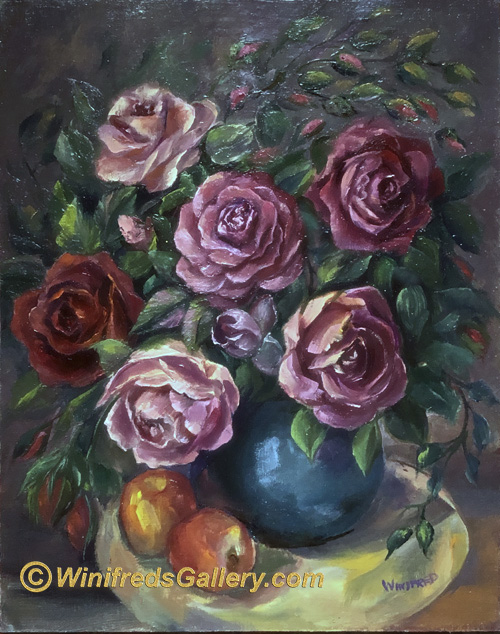 Above, the challenge was to paint a variety of different roses but to maintain a consistent painting style. For me, that required a great deal of discipline. I often like to paint in the "style of the moment". By working to create a consistent style, some of the spontaneity was removed from the process – a type of "freeness" in hand movement I value. Even the fact that it is a 16×20 – not a small painting, increased the challenge.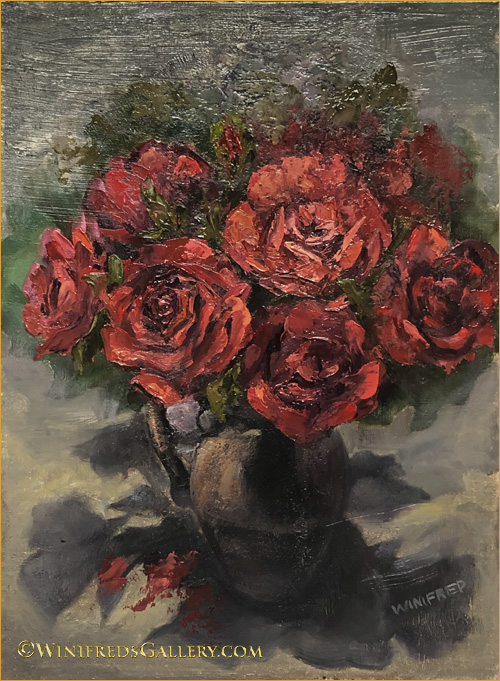 Above: I planned to take this vase of silk roses upstairs but set them on the landing temporarily. When I did, I immediately noticed the very interesting pattern of light on the roses but particularly the shadows reflected onto the landing. One rarely paints a still life using overhead light but this was special. I snapped several photos, one of which I would certainly later use as a painting references.
Below: Painting sketch from imagination. My challenge to myself – could I convey in only only a few quick brushstrokes the kind of flower I intended. This was fun! No laboring for hours or days to create this. It was quick, colorful and fun. I hope you recognize the flower!!!