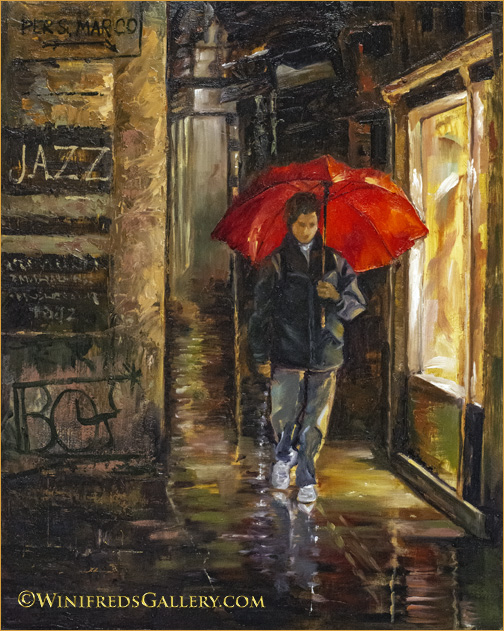 Not a single floral this time! At some point, and very soon, I will post the entire collection of my paintings from Venice – I have many favorites. The image above has been posted before, I am posting it now because I am sure many have not seen it, and because I don't have a new painting ready this week. I've been working on 2 paintings simultaneously – and neither is complete. I've been slow because I wanted each layer to dry before continuing to paint and because it has been a very busy week with other matters. Below, however, you can see what I've started. Hopefully, I'll get them finished next week – not sure, both have a long way to go.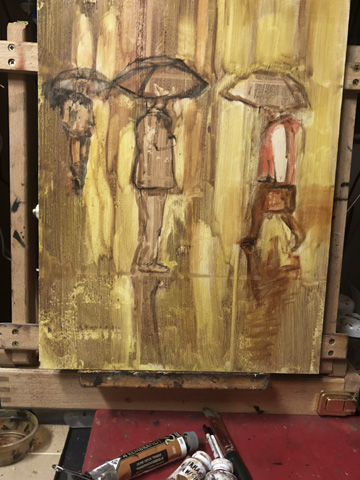 There are many painters who could get to this stage rather quickly, because they paint fast – which I don't, or they may trace a photo onto a panel, or use a projector to project an image onto a canvas to trace or even print images on canvas with a printer. I only recently learned about this. The most I use as an external aid, is to create a 9 section grid on my photo and then loosely the same grid spacing on my panel, to help me accurately place the content of my reference. Before I create the grid on the photo, I often spend a substantial amount of time creating the actual reference I want to paint. I manipulate the photo substantially to alter or adjust the photo content as I want it to appear. I adjust the location of photo elements, the size, perspective, color. Ultimately my reference photo is not the photo I start with. It is very handy to determine these things before I begin painting rather than blundering along using the original unaltered photo trying to make changes to it "on the fly".
Below, is the sketch painting phase of my first Gondola and driver with passengers. Hopefully the reason for this choice will become clear when complete.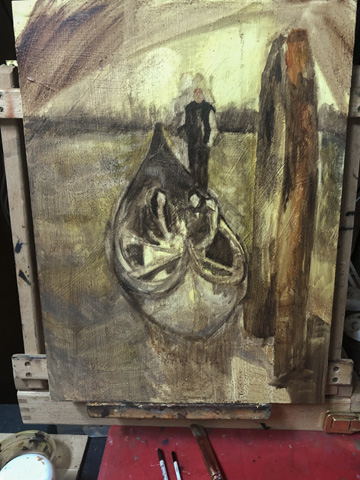 There are many short cuts artist can use these days in the painting process which speed them alone to galleries or clients, but I tend to stick with the long and time consuming way of doing things. It's just my way and sometimes it is tedious. I could even add more squares to my grid, to aid in capturing the proper placement of the reference image but I prefer the practice of increasing my ability of doing this from site. You'd be surprised how challenging it is. Some day, I may speed up my processes. Bye for now. Winifred