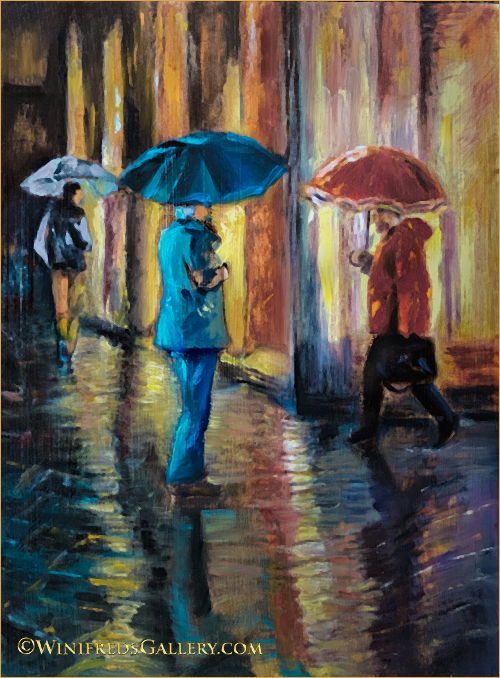 I enjoyed taking photos of life in Venice – mostly, I loved images of people with their colorful umbrellas walking in the rain. I've created many paintings from them which no doubt will continue. The painting above is new. I I liked the varied focus and directions of the walkers, but all with umbrellas which unified the scene. The two paintings below were painted a few months ago but I was not happy with them.
As with relationships, some paintings become stronger over time, while others become weaker. I substantially altered the two paintings below after I looked at them for a while. I often post an image of a painting immediately after I first paint it – not a really good idea. I need to place a painting convenient to glance at it for a week or so before deciding if it's really finished. It makes a HUGE difference to do this. Some paintings might require only minor adjustments, others major. There are other paintings I scrap completely and sand down the panels for in the future.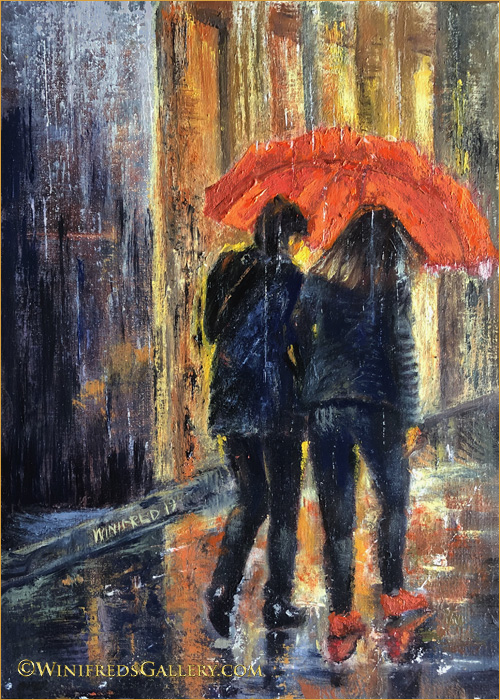 Often there is no rain actually visible in my reference photo. It is often only the reflections on the pavement and big umbrellas which signal there is rain. In the painting above, I decided to paint more visible indications of rain.
The reference photo for the painting below was very calm with the subject walking past a smooth pink building wall. I wanted to shift to a higher energy. I added the white drips to the big blue umbrella edge, kicked up raindrops in the pavement and added lots of texture and movement throughout. It's much more colorful and fun.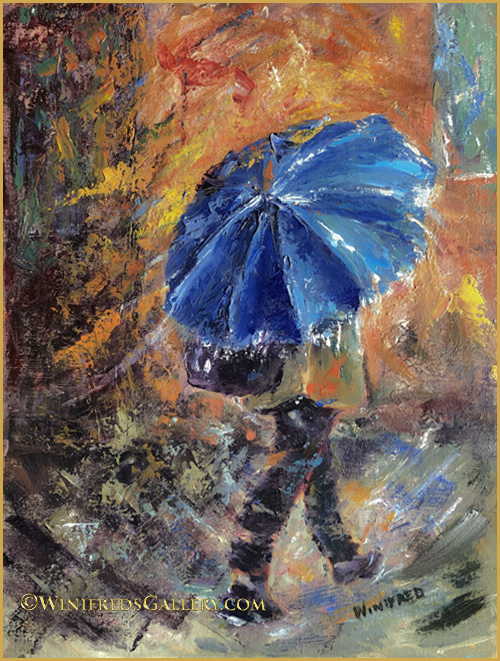 Comments: Some of you make a comment about a painting. I always reply but I've recently been told that you can't see my responses and do not receive notification of my reply. I was also asked how you can access the comment section of the blog. I will inform Jon about this to see how this might be managed. Thank you for your interest. Winifred