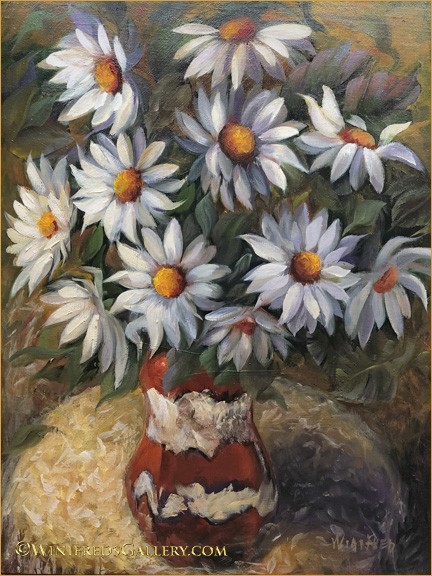 I think daisies are taken for granted. You plant them and they grow. They might even show up voluntarily and still grow and thrive. They grow along the side of the road. I've always liked them. They feel like a "smile" when I see them. I picked some from my garden, selected a few different vases and photographed them. I decided to give them some overdue attention – from a painting perspective. In the above painting, it also gave me the opportunity to show off a recently acquired vase from my tenant, the Poulsbo Antique Shop, which specializes in antique glassware primarily.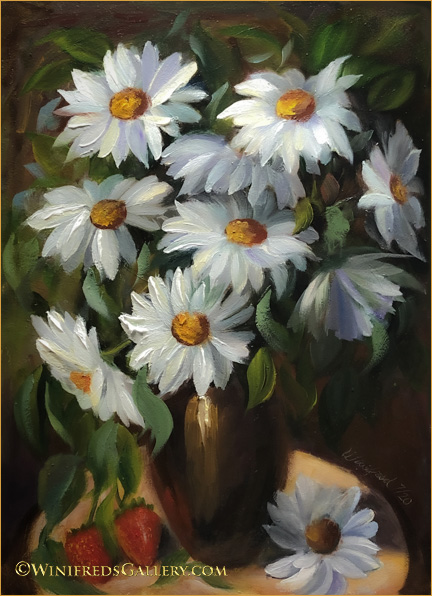 My primary objective in creating these paintings was to show depth in the flowers and overall depth in the bouquet. Ultimately I think I was successful and I like the above painting as much as I do the very top painting. Daisies have virtually no foliage along the upper flower stem, hence, if I want to embedded them in green, I would have to find foliage to place with the flowers – or create it from imagination.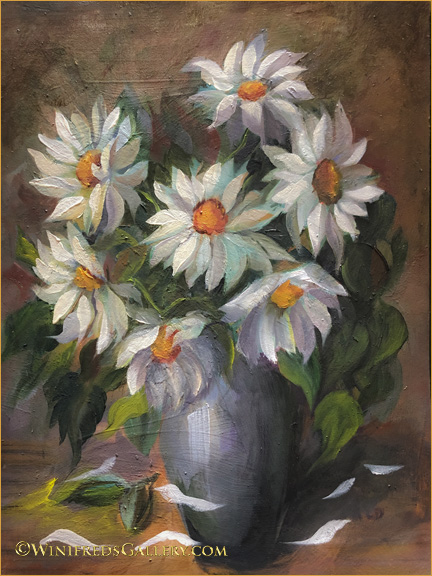 I took the imagination route, which also provided an opportunity for more foliage variation and lively brushstrokes. It's a bit scary doing this because it is random and you aren't sure exactly what you're going to get, though relieved if it works well. I didn't want to stick to realism. To be effective however, I would have to be comfortable with varying colors, light and shadow consistent with creating the depth and dimension I wanted to achieve. It was actually fun and challenging to take garden white daisies and give them so much color and variation in this process.
The process has been interesting. I learned a lot. I tried different processes and techniques in each. Now I want to create painting which incorporates what I learned overall.
Since Last time I posted, my garden has become beautiful – my neighbors all tell me so – though primarily constructed with containers. In the middle of my garden I placed a new BLACK LIVES MATTER sign. Actually. I have one on the front balcony as well. I'm the only African American in the homeowners association where I live, but another women has a sign in her front yard as well. She was told by an HOA board member she should take it down, people might think she is against the president. I told her I am completely against the president but that has nothing to do with my sign. I indicated to her that I'm pretty sure no one is going to request that I remove my sign and I wouldn't anyway – she didn't either.
During my absence, the past month and ahalf, I've also attempted to complete an oil portrait of my mom, who is no longer with us. It's a 3/4 portrait which includes hands and a dozen roses, chair arms and more. The reference is from a photo taken on mothers day perhaps 6 years ago. I have've not yet succeeded in capturing the expression I remembered and felt. I needed to take a break from the portrait but I will soon continue. I'm happy with most of it – even with her hands – but not yet wit her face and sly smile – which I had to force out of her!
Bye for now, wear a mask and distance when possible. This country under the current leadership and policy direction is still "growing infections" in the population. Far less developed countries are doing SOOOOO much better. So sad.