Another enjoyable painting. I particularly enjoyed interpreting the reference photo I used. It's fun to work out new patterns and colors or lack thereof. That's the challenge and creativity for me – not painting what I see – looking at a photo and painting something different. Most often, I don't share the reference but on this occasion – for no particular reason, I will. Initially I painted the large bag with stripes. That was good but I kept seeing RED – so I painted out the stripes and gave her a large red bag. I'm not sure a Guatemalan woman would ever use a solid colored cloth. I have never seen such in a photo.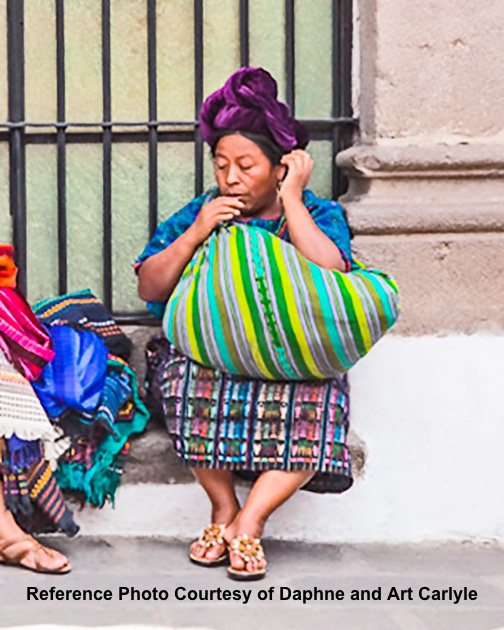 One of the things I most like about the reference image is the shape of her body and the bag within the space. It's pretty much a diamond shape with the point of her hat and the point of her feet. I also found the window bars interesting. I kept them but chose to soften their impact overall and enhance the impact of the little phone since that's the story.
Starting with photography, then digital art, portraits are my foundation. 6 months into oil painting I was creating client portraits. Those are seriously hard work. Currently, I'm working to be more casual and loose in style and loving that. It's particularly fun when I don't have to create a likeness.
Well, we're beginning to peel off the mask. YEAH! Have a great weekend. Don't forget, comments are off but all emails and messages are welcome. Winifred