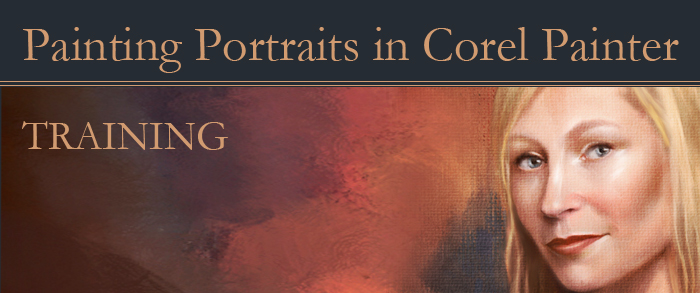 Corel Painter Portrait Painting Tutorials
In this tutorial collection Winifred Whitfield will demonstrate and narrate a process of turning a photograph into a beautiful and painting.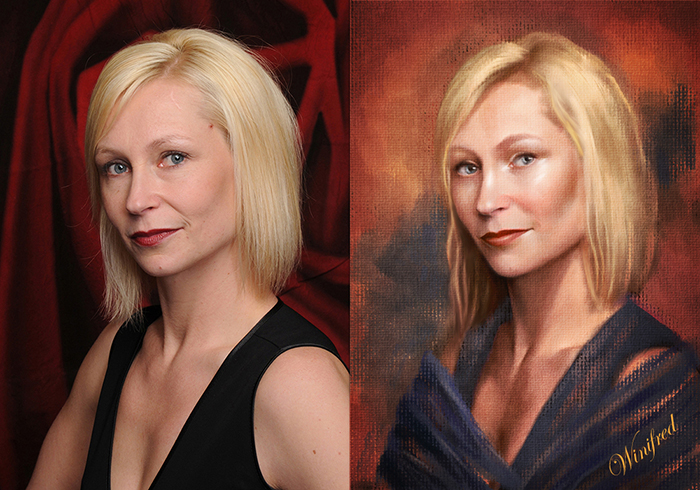 This tutorial 2.5 hours, divided into 4 chapters with easy to understand and follow narration and demonstrating
of one of her portrait painting techniques. You will learn the following:
1, How to extract additional detail and structure from the  reference photo and why.
2. How to use this additional information to define the planes of the face and body to create a more simplified and painterly look.
3. A simple but beautiful way to paint hair,
4. How to paint facial features.
5. How to paint her dress..
6. You will see Winifred  repainted  the dress from scratch.
She will demonstrate a simple process to paint the background  from scratch.
8. A shawl will be added –  painted  from scratch.
9. A vignette is applied.
Additional Videos
Includes 5 separate image progression  will shown and discussed.
Hear Winifred discuss her thinking, her process and procedures for transforming these photos into paintings in Corel Painter.
Create and customize your workspace for efficient and enjoyable painting.
Lets talk about adding texture overlays.
Additional Free Video Content:
Creating Custom Palettes 1  and  2
Creating Custom Icons
All About Colorsets
All about Gradients
Painting with Painting Texture
Creating  Custom "Looks"
Other Resources:
Textures and Overlays