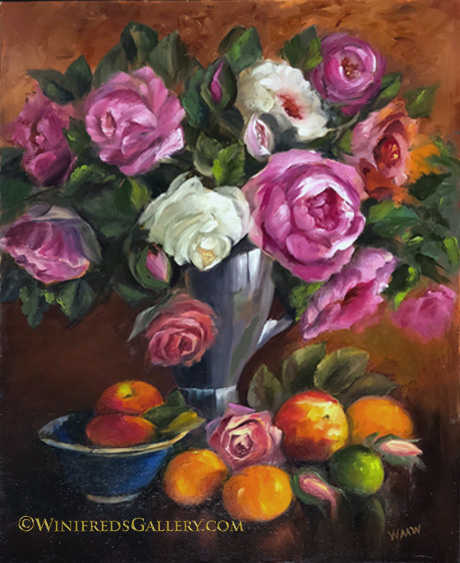 With my large format printer removed from my very long table, I have a new place I can set up to shoot still lifes with ease. The wall is a rich burgundy and I have a source of both natural and artificial light available to create reference photos from which I can paint. Often I don't have a great deal of fruit in the house, but at the time I created this reference photo, I had abundance of fruit in the house – as well as artificial flowers. I used an electric coffee maker as my vase. My arrangements always take a while to create but ultimately, everything came together nicely.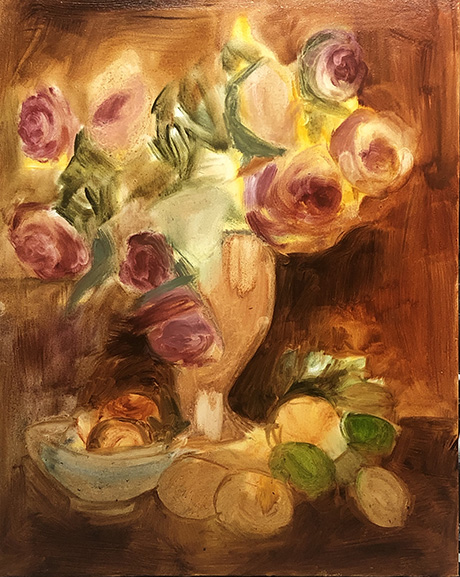 Above, I liked the rough color/value sketch. It's a loose painting style, some of which I hoped I would maintain in my final painting – but I failed to do so. In fact, I will soon create a painting where this painting style is the style for the painting. I like the fact that I can now, so quickly create shapes recognizable as a roses – which are complex to paint.
Below is a painting from my initial still life set up in the new location. I will soon purchase new silk roses with new colors and rose types.
I do love the turquoise and vivid magenta hues together. Thank you for observing my progress. Winifred