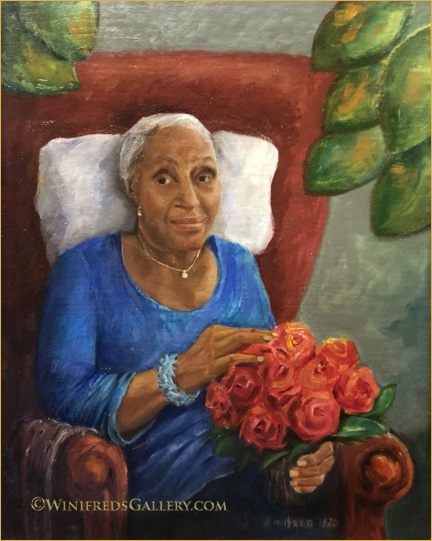 It was Mother's Day 2014 when I took this last photo of my mom. She passed some months later. She holds the roses she'd received; she's wearing the sly smile so familiar and the little diamond necklace, but otherwise the details have been altered. It was difficult to paint this portrait , to be able to look at it and to recognize and to "feel" the person, whom I loved and who loved me all my life.
She was a great lady. She taught first grade for 40 years and loved it. I was a child when she went away to school several summers completing a few courses each year, working toward, then completing a Masters Degree in Education. That prompted me to decide I would get 2 Masters Degrees – though not in education. I didn't know at the time how fortunate I was. My parents always owned a home and two cars. Her parents always owned a home as well. I always knew I would be well supported and my education would be paid for. I took this security for granted. I thought at the time it normal to complete high school and then college as prerequisite to even thinking about a job. It's funny, but actually a little sad that my first job was with a State Employment Security Division, Youth Opportunity Center, whose sole purpose was finding jobs for teenagers. I could not understand why the high school grads and drop outs were looking for work; they hadn't finished college! I learned about lifestyles very different from mine. Within a year or so, I headed to grad school.
My mom provided me with unconditional love and support. Without limitation, I was told I could be anything I wanted to be. Race was not even discussed as a limitation. My self esteem has always been in tact. Without exception, I saw and still see segregationist and racist, as very ignorant people. I was born in the South but it doesn't matter – racism is and always has been everywhere in this country. To judge by skin color really is pretty stupid. With my mom, I always felt I had a safety net.
I loved my mom. I miss her, but all that she did and all that she gave continues to live on.