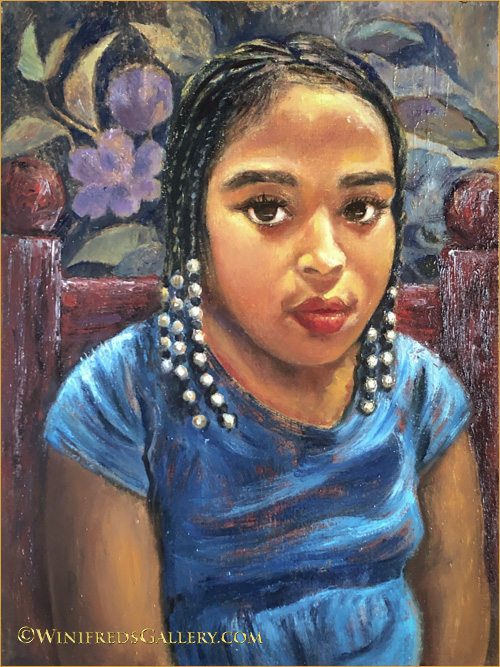 It's been a year and a half since I painted a portrait. I decided I needed to paint portraits again before I forgot how – though I'm not sure if there is such a thing. I actually think any kind of painting leads to the same place – a more practiced and competent painter – but just in case I decided it was time. I opened my "to paint folder" to make a photo selection. I encountered this little girl a couple years prior, sitting inside a large shopping cart as her mom pushed her about while grocery shopping. She was wearing a pink dress with sparkling white beads in her hair. I ask her mom if I could photograph her. I promised her mom I would send her a digital file of the photo I took and I did. I then put the file away, not sure I would ever paint it.
When I began the painting, I envisioned a simple head and shoulders portrait with a plain background. I knew the beads in her hair would give the painting a certain pop! Below is an earlier unfinished stage of the painting and it was the stopping place for day one.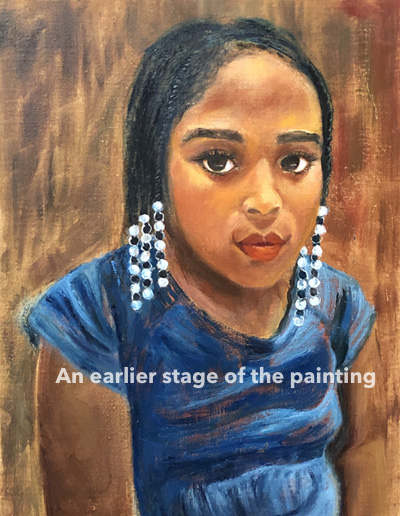 The following day, I painted a simple golden toned background with a bit of color variation and a bit of texture – different from what you see above. I also formed her arms more correctly and changed from the stark white beads – a judgement call – to more painterly beads. I placed the completed phase 1 painting where I could look at it for a while and thought – I DON"T THINK SO! The slouch was awkward against the plain background and bothered me.
I decided to give her a red chair because people often slouch in a chair – this helped. At the end of that painting day, however, I still wasn't satisfied. I decided the background had to change to something more colorful and interesting. I went through my files, found a simple floral pattern, and used it, generally, as a background reference.
Adding this color, tones and shapes gave me what I wanted. These changes occurred over several days as my vision of the portrait evolved. It's so much easier and faster to complete a painting if I have all the information and elements in the reference photo from the beginning – but in this case it was a "shopping cart". It's a good exercise to work this way, however, as it is an exercise in expanding ones creativity.
Portraits are complex and can be very tedious. This portrait was complex but was actually enjoyable and I will be creating them more often.