Vase and Fruit Still Life – Oil on Linen – 11×14
HAPPY NEW YEAR! Soon we'll get to start all over again and hopefully make 2018 meaningful to ourselves and those we love.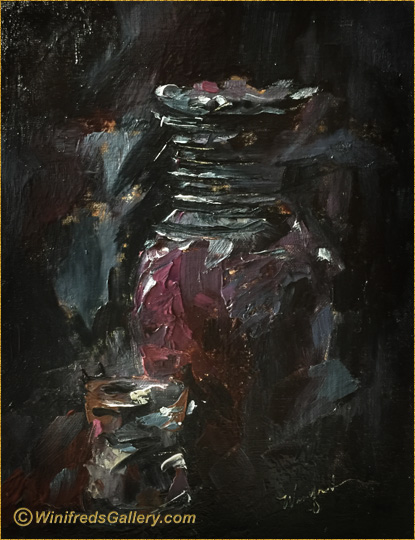 I am constantly challenged by painting. I didn't think I would get another painting completed this year but here it is 5 a.m. New Years Eve and I have two new paintings completed!! I decided to paint the vase from the still life first – as a stand alone – just incase I couldn't get the more complex still life finished in time.
Below is the full still life painting as set up in my studio. You can see in it the vase I painted above. I can now eat the Mandarine oranges.
I've been studying some of the techniques and painting products of the old masters and have incorporated some of these products into my work. Not only is the painting surface textured but my paint is made and mixed with products now, which give me an entirely different brush stroke look. I love it!! It's so interesting. I made 3 new painting oils this past week as well. It is complex to do but I remain fascinated.
Sincerely, in 2018, I am wish you the healthiest, happiest and most prosperous new year ever. Thank you for sharing this very special past 6 months as I began to paint with oils. Winifred