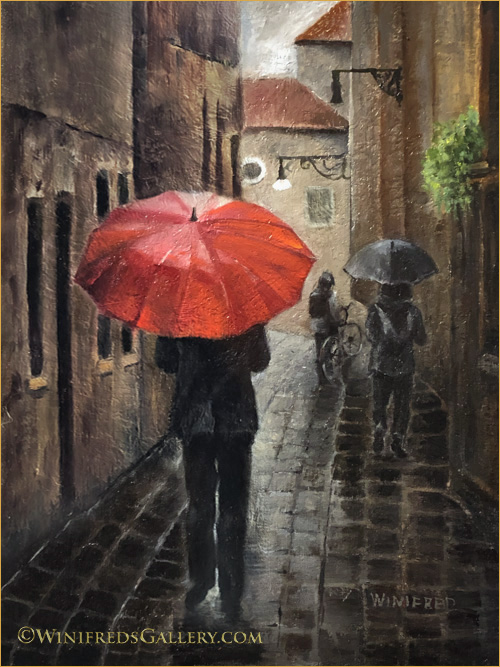 Another colorful umbrella, reflections and lots of texture to paint – a journey unto itself. Initially there was a group of ten people at the end of the stone path. I didn't find that very interesting and chose not to include them, instead deciding on one person I would create from imagination. There he was standing alone and suddenly became a strong focal point – surrounded by the light and wearing dark clothing. He needed some "stuff" to diffuse the focus. I decided on a bicycle and a backpack – something so often seen in Italy. That alone with shadows for him, and a few smudges allow it to work for me – attention, but not too much – after all, the man with the red umbrella is the "star". Painting from my Italy photo references gives me the opportunity to paint environments with people, texture, and dramatic lighting formed in a very different way from painting portraits and still lifes – I like that. The fact is, I love it all. Below are a couple of additional previous paintings created nearly 3 years ago – you may not have seen. Hope you enjoy.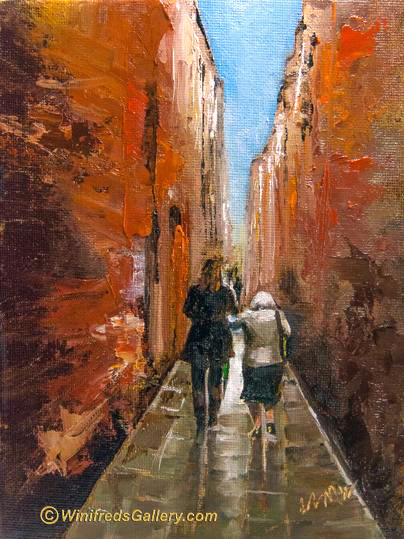 Above: This is such a tender painting. I love it still – so does a friend who owns it and tells me often this is the first thing she sees when she wakes every morning. She loves her grandmother and this is a reminder of the relationship they share.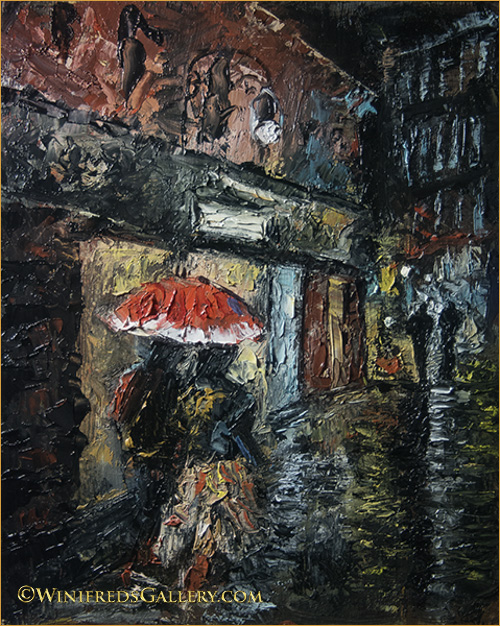 Don't let this one scare you. I have an "undetermined" assessment with the above painting. It was one of my very early paintings and my first impasto painting. What I do like is the energetic brushstrokes – with a bit of an impressionist look to it – though the impressionist were all about painting outdoors in light. t does hold my attention and suggest that I explore it in detail. This painting has had a new home for quite sometimes and he thinks it's great – whereas I'm still not quite sure about it. I think I'm less bold now and that is NOT good. Actually, the more I look at it – the more I like it. I must try to create a new painting in this style. That would be fun.
In my next post, I hope to enchant you with a series of miniature floral paintings. Miniature for me is 4×6 inch paintings. I've completed a couple of them and they are pretty fun to do. It's different from painting a larger painting. Stay safe. Winifred