12×16 Oil Painting on Gessoed Board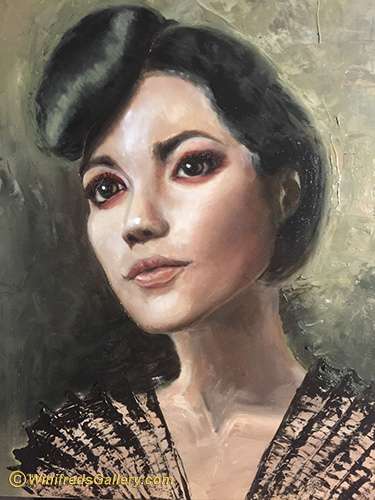 Above – Final Painting
This is my largest painting to date. Sometimes I play. Playing has value. Sometimes I am very serious and want to get it right. What is right? I wanted to create a classic painting, with accurate skin tones for this person – I wanted to reflect accurate hues, tones and chroma appropriately sculpting the form of her face – within the lighting in which she was photographed. "Accurate" is a tall order here – starting with the fact she was photographed in weird light, the photo was printed – meaning a different shift in colorspace. So many things, have interfered with accurate. That being said, I was deliberate and wanted to do my best.
I took the reference photo while in New York at a gallery opening a few years ago. She was very willing to pose, as I find is usually the case in New York City. Her dress was black dripping with multiple chains. She had one bare shoulder. The bare shoulder was covered with huge tattoos likewise all down her arm. She had a long ponytail. Her eyes were rimmed in bright red make up. I think she might have been disappointed had I not ask to photograph her. I thought she might be enjoyable to paint.
Initially, I spent an hour mixing paint. Based on colors and values in the photo, I created a large variety of subtle shades and hues for her face. That become an enjoyable part of painting – believe it or not – it's own meditation.
Below is mid stage of the painting. It was a modern, rather vixen look – but that's not what I had in mind.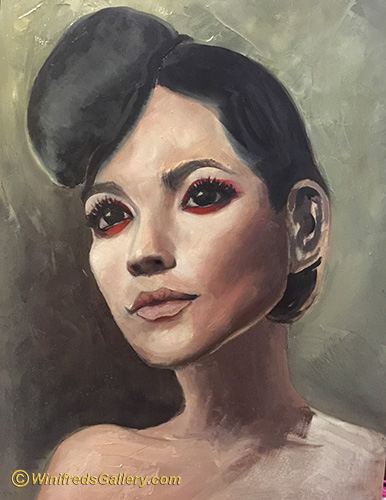 Above – Portrait Stage One
I wanted a more classic look. I thought a vintage hairdo might be interesting and added a bun to the back side of her head and a long curl.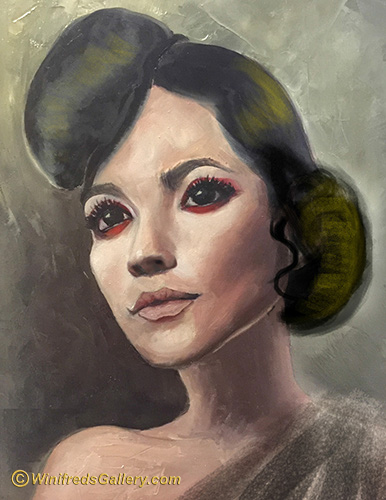 After looking at the painting for a while – nearly an hour later I decided to remove the back bun and curl I added – to wipe off the paint from that vintage variation. The hair paint was still soft/wet. I then only slightly modified her original "do", softened and blended the edges of the hair where it met the face and its exterior edges. In the final image above, I also subdued the red rimmed eyes, subdued the eyelashes, and softened the lip lines. Some of the boldness of the image was lost, but I was after softer and more subdued look – shocking!! Perhaps, I should have and could have been more careful in painting her neck and upper chest. I did not do so intentionally – not sure it was the right decision.
Hint: We all need time away from out art periodically, to bring fresh eyes to our work. There are many ways painters do this. Viewing your artwork in the mirror can help as well. What I do most often is to photograph my painting with my phone periodically – a series stages of the painting along with the latest stage. I can view these images anytime – and I do so frequently. Viewing these images small on my phone gives me distance and a different way of looking at the painting. I find this process very helpful and I do this with every painting. It shows me things I might never have seen when looking at the larger painting.
Attire:
I also wasn't sure what I would do for attire. I could leave her shoulders bare – or dress her in some way. Again, I photographed the painting with my iPhone and opened it in Painter to explore some alternatives. Thats how I tested a few strokes of "fabric on her shoulder". (Bye the way, I also used Painter to test adding the bun which I removed.) I decided that whatever I creates as attire would be loose and easy, hence, I returned to my paints. In the end, I used the palette knife to create her "stunning" dress top. That was fun!!
Over all I learned a lot in the painting process – always the case. Once again I learned to try to get color, values, and brushstrokes right the FIRST TIME. "FIXING", especially skin, doesn't usually lead to good results.
Related Images: