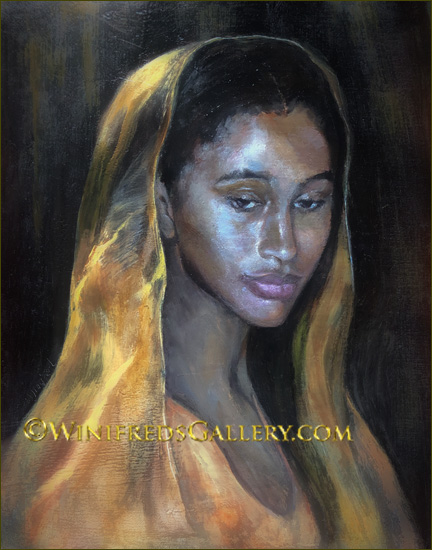 For the past 20 years, starting with photography, then digital painting and oil painting, I am drawn to portraiture and figurative art. Portraiture grants the opportunity to create a "portrayal", of an individual with the potential range of human emotions – be it joy, serenity, sadness or despair. One who commissions an individual or family portrait, normally wants to be flattered in their representation, as well as recognizable, all of which requires technique and precision. It's something I work at all the time. I think the bulk of portraits painted are art portraits, portraits which have not been commissioned but are painted by the artist for art sake, to strengthen technique or to express a story. I am fortunate to do both.
I've seen many portrait painting styles from artist which I greatly admire. You know the thinking, "I wish I could paint like that". Well, I've finally accepted that the only and best artist I can be is to paint like is ME and that will always be a work in progress.
Someone said that to achieve mastery in anything requires 10,000 efforts. With respect to oil painting, I have about 9,800 portrait paintings to go, so… I'd better get cracking!
Much has been made of the portrait of Michelle Obama painted by artist Amy Sherald in 2018. The discussion, primarily has been, Does the portrait look like Michelle Obama. The significance to me is that portraits are not required to look "exactly" like a person in order to portray who they are. I found a short and very interesting video featuring the artist Amy Sherald, Michelle Obama's artist for her portrait created for the National Portrait Gallery. I think you will enjoy.
Have a great weekend! Winifred
Comments are disabled but I'd love to hear from you – please email me if you like. Mailto:[email protected]
Related Images: