Welcome! Something big has happened to my home! With the help of two talented and wonderful friends my environment has changed dramatically, my home has become a gallery. (Above: Almost a 270 degree living room/gallery panorama). Overall 86 paintings are on my walls.
Creating this environment was an immense amount of work. During my past 5 years painting with oils, I didn't hang paintings on my walls. I chose to daily paint daily – and not focus on using my painting as decor. Well, that's changed. Paintings stacked up in a spare room in a hap hazard fashion. I needed to either hang them or box them for protection. Painting still lifes, more so than portraits, was new for me. Early in my oil painting life I received many commissioned portrait sales. They were beautiful. I'm comfortable with portraiture. For 20 years, I had created portraiture photographically, as digital art and then in oil. I love portraiture, although, as you will see, I wanted to spread my wings.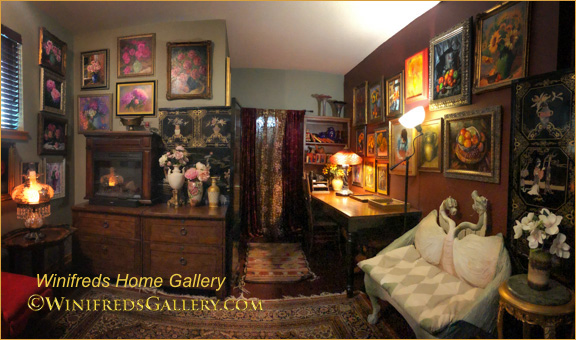 Now, I'm surrounded by paintings of all kinds. Not only that, I brought into this space my most interesting soft furnishings to compliment the painting presentation, which I'll also show you. I'm thoroughly enjoying the new environment and I can now easily share my work with invited friends and neighbors.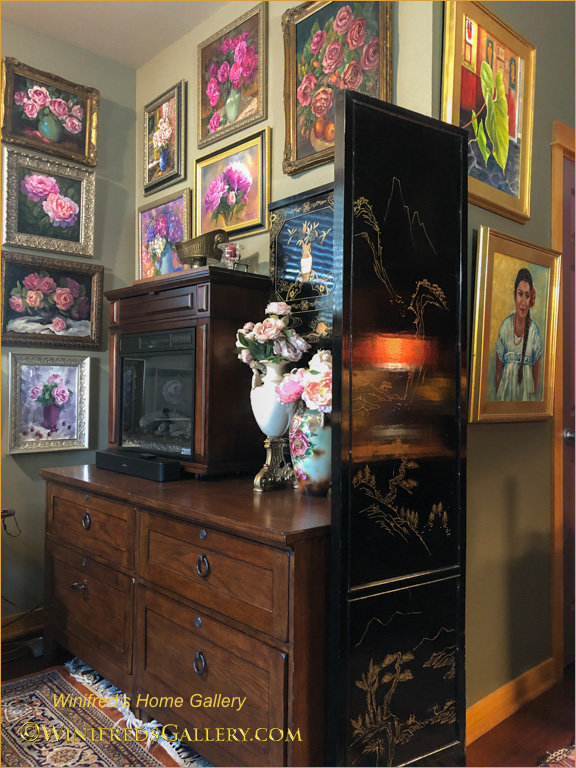 Each wall or grouping has a theme by content or color. There were roses and peonies on one wall, oranges and yellows, primarily sunflowers and fruit on another. I paid close attention as the concept was developed and the layout created on the floor before it was installed on the wall. Husband and wife team, Sapna Sopori and Alex Wisniewski – have professional lives which have nothing to do with this kind of activity. However, I had noticed Sapna's passion for decorating and lots of picture hanging in her home. I ask if she would help me. She excitedly said "yes". Not sure what I would have done without the two of them.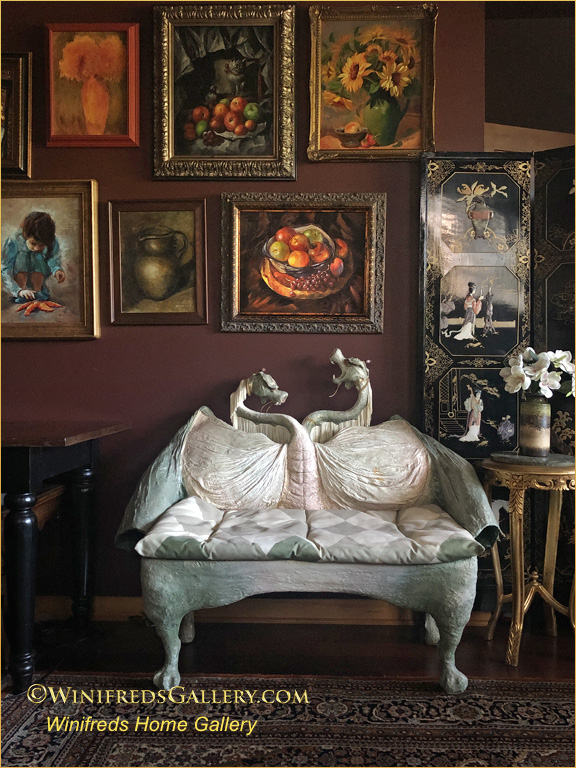 This dragon bench is certainly one of my favorite pieces of soft art, made by artist Marilyn Phillips. I've had it for a long time. It fits in very well with the paintings. Sapna, who designed this project is captivated by the dynamic of the single escaping grape in the still life above and the dragon, thinking that at any moment grape might just fall into the dragons mouth. The paneled room divider with it's square sections also works perfectly in the overall design scheme.
Below: I don't know much about the origins of the settee below. It's an antique. I previously used it in my portrait studio.
This settee was the most used piece of furniture in my portrait studio and gallery because of it's adjustability. The arms can be moved from completely vertical to completely flat. In addition, it's so perfect for a mid day nap! It's also the perfect compliment for my collections of daisies and sunflowers paintings above or in fact any group of paintings. By the way, I'm thinking of painting that gray/green wall a deep burgundy/brown so the blinds disappear. I actually have just the correct color on the opposite wall.
The paintings below, are on the wall just to the left of the red settee – still in the living room. On this wall the paintings are a little more abstract than others.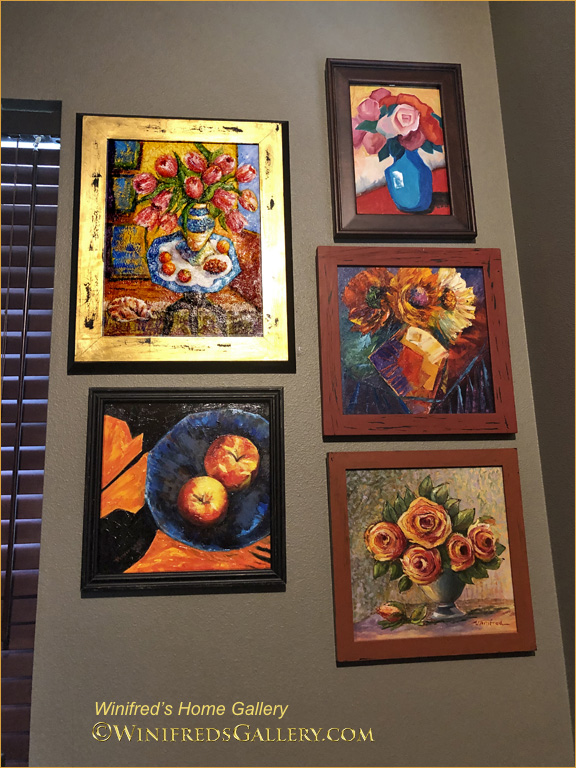 Below: To the left of paintings above is my green settee.
I found this unusual piece of furniture at the Salvation Army Antique store in Seattle 20 years ago. I was so excited. It was torn in places; you can see the new fabric used to make repairs.The arms can be rolled out and off. They are attached with curved metal rods. The back will pull off. I wondered about the origins of this unusual piece. A while back, on a business trip to Colorado I entered an antique store – where to my surprise were several identically configured pieces of furniture – but with different fabric. They were in a terrible state of repair. The shop owner explained that they use to be in the lobby of old movie theaters. I've been told that the fabric on my settee is something very special – designed by someone very famous who has work in the Metropolitan Museum of Art in New York. I'm making efforts to know more about it. I should do an image search – but as yet, I've not.
As we pass the green settee, we approach the dining area.
Above and Below:- Wall of portraits and figurative paintings. I'm enjoying doing portraits and figurative painting again.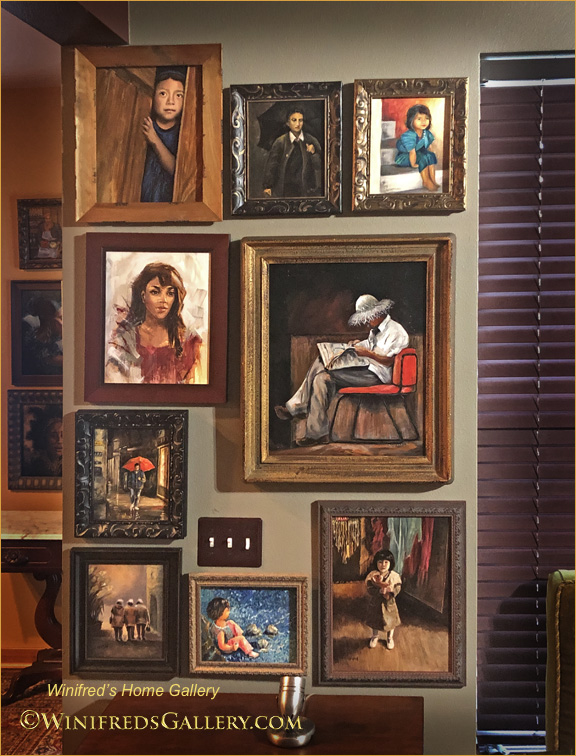 Below: Dining area.
To the right side of the blinds in the dining area is another portrait wall which includes shopkeeper in Italy and Italian women walking in the rain with umbrella, a Guatemalan woman and intense portrait of a women in "despair" and a musician in glamorous attire. Below the portraits is a ceramic art piece named by artist Steven McGovney named "Winifred". It's a book end. There were two. The other bookend "Priscilla" was blonde and sadly she was broken.They were best of friends!
Above: My most recent portrait/figurative paintings have some cyan coloring. The others I painted earlier, including two which are part of my Venice collection.
Moving toward the stairs and the entry of my home are two paintings commemorating the Covid Pandemic and Black Lives Matter demonstrations which took place during this period. We then head toward the stairway to view the "Venice in the Rain" series. It's a themed series which includes people with umbrellas, painted from photos taken on a rainy night in Venice. I have created 11 paintings in that series. Only 7 are on that wall, but there was no way to capture them all at the same time.
To the far right on the stairway landing, you see a glimpse of another painting. It's a painting which purchased in New York years ago from painter Steve Lindsay
Below: I attempted to create a panoramic image of the Venice themed paintings while walking downstairs. In a way, it didn't work, but in a different way, it worked fantastically. I love the breaking apart and abstraction which occurred. It's the best!!!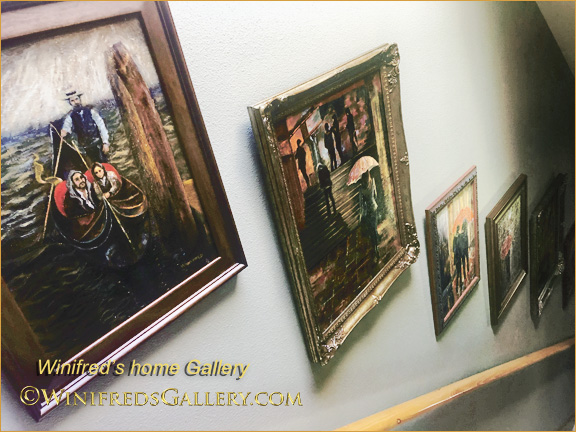 It's done!!
Comments are back on. I'd love to know what you think. Thank you … and Thank you Sapna and Alex. Winifred
Related Images: