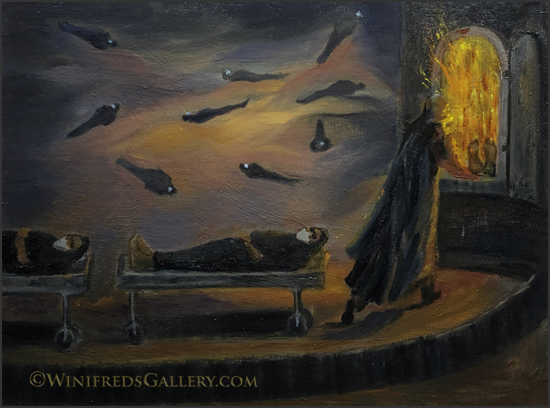 I felt compelled to create a painting which reflected some aspect of the pandemic which largely dominates our lives. I chose to focus on the loss of life. The elements of this painting were born in my imagination – scary huh!! I have never painted a story from imagination before. It's a visual story which you may describe in any way you want. It has to stand on it's on. I'm discovering more about my mind all the time. I'm pleased. There may be those who are horrified. That's okay too. I have flowers for you. In the above painting, I am particularly pleased with the movement, design and flow, the color palette and the mood established. Painting this was quite an experience. My objective is not just to do pretty or happy paintings.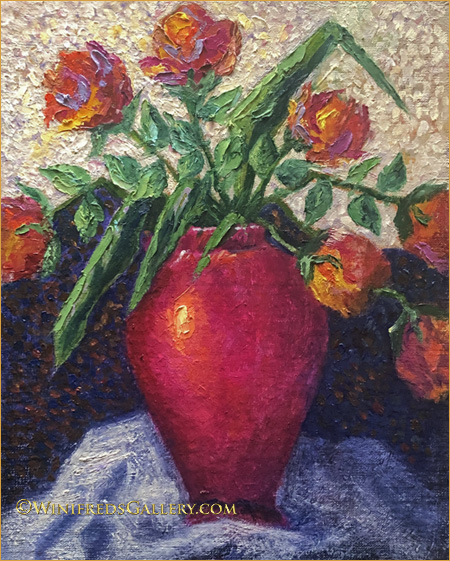 I make products to mix with my oil paints to give texture to my paintings, when that's what I want. For this floral painting, I used a mixture I've not used before and I like the results. The vase is so luminous. There will be more.
Well my containers are growing well – lots of strawberries, kale – and for the first time cherry tomatoes, zucchini, cucumber, parsley, mustard greens, and more – easy stuff. Of course there are lots of flowers also. I hope you're having a good week, it whatever form it takes. Nothing is like it use to be. My biggest news is I returned my worms to the worm farmer I got them from. She was happy to have them back. Vermicomposting was a great experience. I found myself sad the following day – I missed my red wigglers.