I hope this painting brings you a bit of cheer today!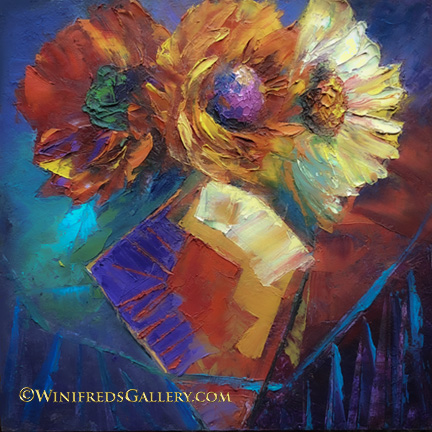 My paintings have a life of their own, no matter what I have in mind – but I love the process of getting wherever I'm going. This was fun and I certainly enjoy the color, the shapes and the texture. I can also find fault with this painting. I pointed out to a friend who saw it, that there might be too much difference between the painting style of the flowers and that of the very modern and abstract style of the remainder of the painting. Fortunately, she disagreed. She thinks it's perfect!! I was considering scraping off the vase and painting a more traditional vase. I reserve the right to do so in the future if it REALLY starts to bother me. You might think, why not just change the style of the flowers? Well, the flowers are far more complex to paint than a vase – that's why!
I recently made quite a bit of the product I mixed with my paint to get this texture. I have 3 different formulas left to try – though you likely wouldn't notice the difference in them. So, you'll likely see lots of impasto in the near future.
I'm planning on painting something very bazaar this week. I've done a loose sketch. We'll see how it goes. Meanwhile have a great week. Winifred