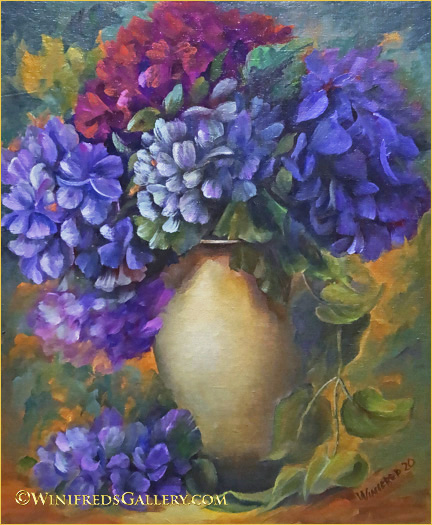 I cut these hydrangeas from a large bush last week in a friends yard in Seattle. The flower heads were huge and most were beginning to dry on the bush. Hydrangeas turn many beautiful colors in fall. I didn't try to capture that color exactly, instead opting for the blues, purples and reds of early summer – mainly because I already had the several gradients of paint colors mixed that I need for blues, purples, greens and reds. I'll do the other colors some other time.
Believe it or not, I still have more to do on my mom's portrait. I saw a problem with her nose and I need to correct it. Overtime, something new might reveal itself to me, and I'll keep making the corrections until I feel it's all done. Have a wonderful week.
Another black man was killed in May around the same time as the George Floyd killing. The police lied, said death was due to a drug overdose. Now the video and documents reveal a major cover up by the entire police department and I believe the District Attorney as well. He had been suffocated. I want this to end.
I'll miss Ruth Bader Ginsburg – a great lady – a great Supreme Court Judge.
Related Images: