The common denominator in my paintings this week is primarily foliage. For sure it is not painting style!! That's fun for me, painting one way and then another as well as experimenting. I will feature 4 paintings in this post – though I may delete one or more as time goes on.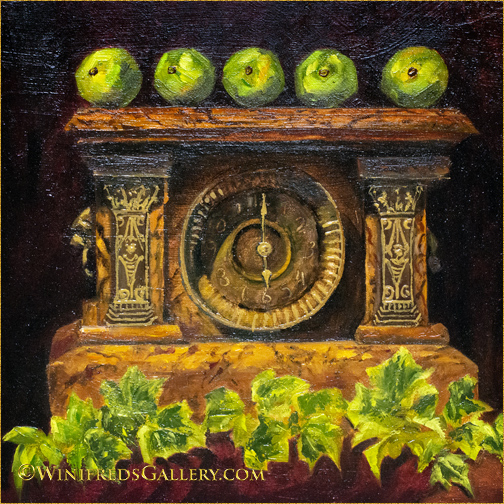 Ever since I can remember this clock has been in my Godmother's home. Finally she gave it to me. I consider it a treasure. It doesn't work. There is no glass front and the numbers are worn off. It does have hands. I decided to paint it. I put it off for a long time because of the ornamentation but alas, it was "time". I wanted to increase it's creativity and the very moment I had that thought – limes and ivy popped into mind – so here it is!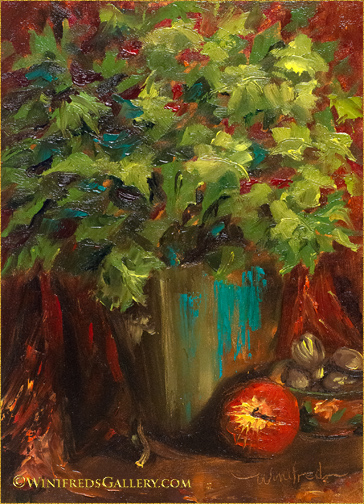 The Geranium: This summer I purchased a 4 inch deep purple and fuchsia Geranium, which I really enjoyed. I wanted to have it again next year and looked up how I might over winter it. It's easy – just bring in inside, cut it back a bit and place it in a sunny window. It's thriving. It has no flowers at this time but it's very green and happy. I brought it into my studio and along with a few other items, this is the resulting painting. It wasn't important to me for it to become identifiable as a Geranium – only foliage and color.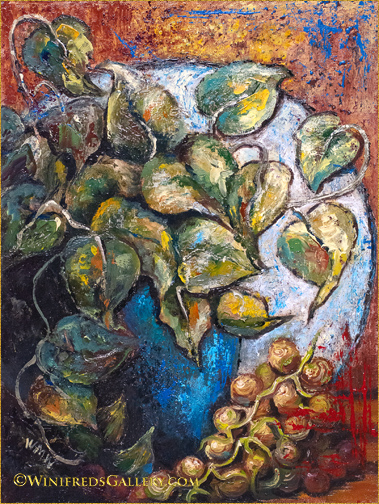 The painting above is an experiment. It's important for me to not be "safe" in painting all the time. So the bazaar and even the failures come with the process. Sometimes I view them as interesting – other times – just plain weird!!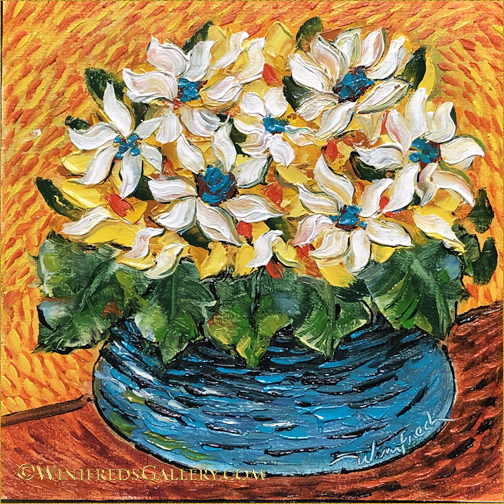 Tiny White Flowers: I really don't cherish looking at one of my paintings and thinking of it as "sweet" or "cute" and that's what we have here. I'm not sure how that happened. I didn't think of it as such before I added the white flowers but it needed something. I enjoyed the Van Gogh like brush strokes throughout as well as the color and impasto effect and design. There is nothing wrong with it technically, in fact there's a lot great about it. I'm the only real problem and I am sure there is someone for whom this painting will be just right. ENJOY YOUR HOLIDAYS! I will have much more to show you in the NEW YEAR!!!