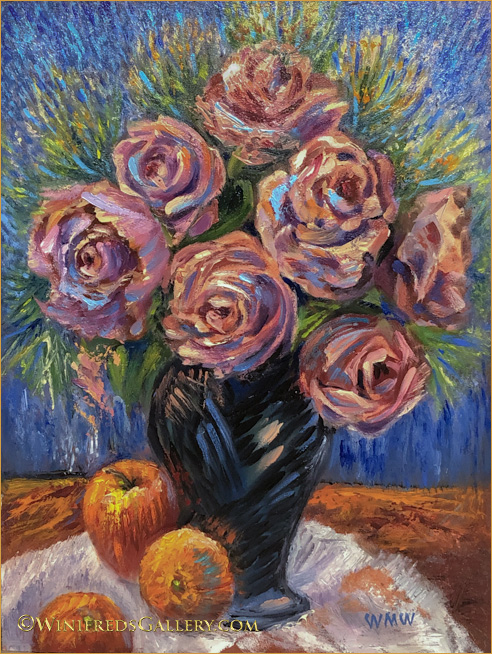 I place a high value on taking chances. In fact, I don't really believe taking chances is a risk, I believe the risk occurs if you don't. If I choose a safe path, one I believe will keep me from "messing up my painting, for sure this will inhibit my growth. I'm thinking now about thoughts which went through my mind with these two paintings – both of which presented me with opportunities to "mess up" – but I took a chance anyway.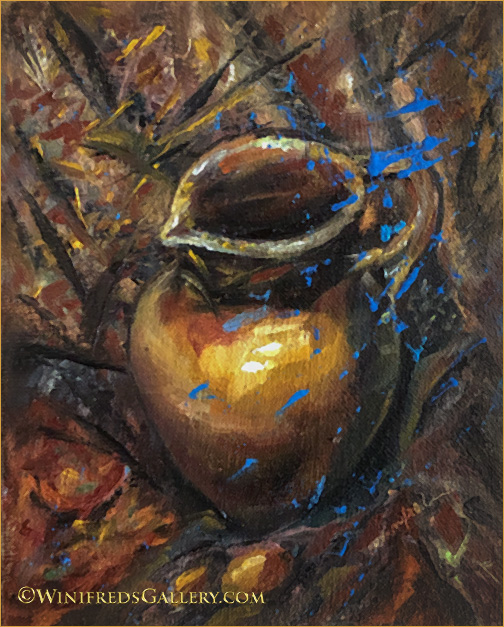 I don't find it particularly difficult "to paint what I see" from a reference photo or from a still life I set up. For the most part, however, my interest is not realistic paintings – except portraits. I'm interested in "interpreting" or abstracting away from realistic visual references. This is much more interesting and exciting for me.
I find this more challenging because it means, I have to "make up things that aren't there". I have to eliminate part of the content which is there. I have to create elements, colors, textures which are not present. I have to make up brushstrokes which alter the surface of my reference. I might "mess up" – I often think as I commence some of my more abstracted or elaborate processes! This thought regularly enters my mind and I have to pause to "talk" to my mind about it. "You can't mess up" – I tell my mind. In fact, I tell my mind that imagining/abstracting new content – new ways to express the elements being observed " is its only job" – and the only way to build new skills, confidence and creativity – no matter the outcome!
 I want to have ideas – receive ideas but to try not to tightly control the process expression.  By doing this with each painting – even in small steps, I know my creativity and confidence grows.  I believe both of the above paintings are examples of being a bit "out of control". It doesn't even matter whether they're good paintings or not. The only thing that really matters to me is that I tried something new which caused some discomfort and I did it anyway. I hope to continue this practice throughout this new year.  
I think the saying is – "feel the fear and do it anyway! 2020!!