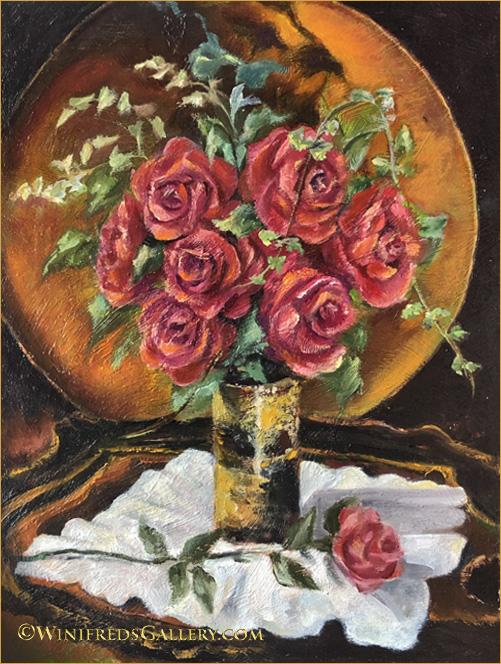 Roses are beautiful but complex to paint. It's been a few months now, that I focused on painting roses. I started by painting single roses which I enjoy, but I also wanted to paint rose bouquets and to paint roses abstractly without a visual reference. This required that I understand the flower structure and be able to visualize the petals/flowers and lighting as the flower is turned.

I love the vintage tray the vase is sitting on. I purchase most of my still life elements at Goodwill or at Poulsbo Antiques. On this one occasion, I walked into Goodwill and immediately spotted this tray – actually a removable table top. You can't see much of the tray in this painting, but it really is beautiful. It was $175.00. I had no place to use it as a table and it was far too expensive to use as an occasional still life prop – so I walked away – reluctantly. The next time I was there it was $75.00. "WOW", I thought, but I still walked away. The next time, I was there it was $15.00!!! This item had been in the floor so long that the cashier further reduced it to $11.00. We all love a good deal!!
Hope you enjoy this painting. Next week I will post a very different style of painting – for me, and painted completely from imagination – no roses involved.