MATISSE INSPIRED – In Conclusion…
Hi Everyone,
Don't you hate to feel this pause in our adventure!!  It will continue you know – in one form or another.
My news is that I am going to be consistently more active with my blog – especially if you sign up for it  – in the upper right corner of my Home Page.  You will only need to enter your email address to affirm that you want to be a subscriber. Then wait for my Blog Post  "every now and then". You will not be overwhelmed with post for sure! There will be a very nice gift emailed to the first 15  who subscribe, so  "don't delay – subscribe today" !!
Info will be provided on by blog beyond that which is posted on my Youtube channel.  If you are not a Youtube subscriber to my channel, please do so as well.  I have 60 or more videos with about 700 subscribers – and growing.  Winifred's Youtube Channel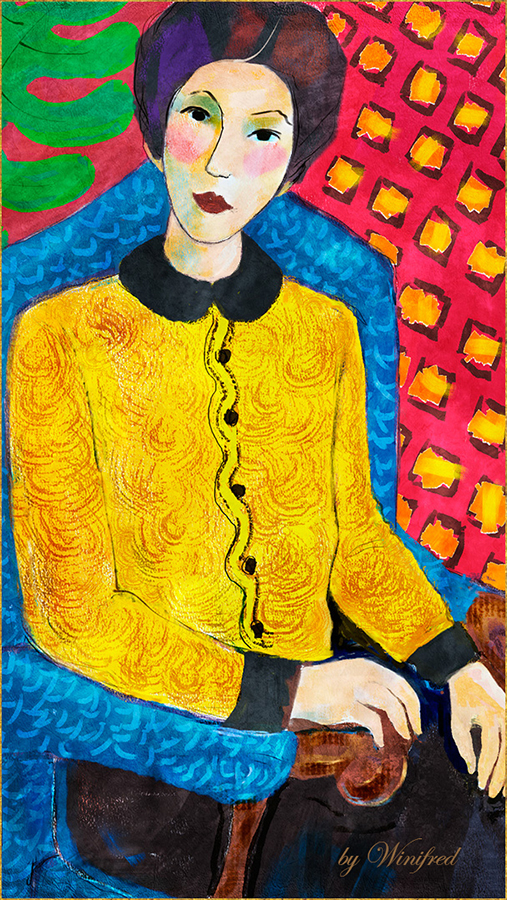 One last Painting.  The title on the cover of the video below is misleading  – this video is not a discussion about the course.  After it was recorded, uploaded, downloaded and a few other  complicated maneuvers required to post it here, I noticed that I had not removed the text  which was appropriate elsewhere – it was too late – no more!!  This video is the recording of a painting which you have not seen – I don't think –  it also shows a few of my Matisse inspired paintings
Creating a Painting from Photo Sketch 2
 For those of you who were not in the course, it was offered at Digital Art Academy where I am an instructor.  Please check them out.  Set up an account and browse through the many course offerings available.  This course will be available again soon as "Open Enrollment", allowing you to  download all course content and to work at your own pace.
Related Images: