This has been a fun and challenging week of Painting. I have painted so much that I've gone through a couple tubes of oil paint at this point – but that's what it will take.
I took photos prolifically, while in Italy. I thought it adorable when I saw these three ladies walking. Actually, there was a fourth, as you can see in the reference photo, but I found her distracting. I also found the wall/garage door, in front of them distracting also. I knew I would have to to develop a more interesting and creative environment. In my first attempt to do this, as you can see in the tonal sketch at the bottom, I painted a wall of square columns – somewhat replicating the right side of the photo. That didn't work. Ideally, the design of the painting would be determined in the initial sketch phase – certainly by the time the tonal sketch is done – but sometimes, I just haven't figured it out – and keep going. This is not the best approach.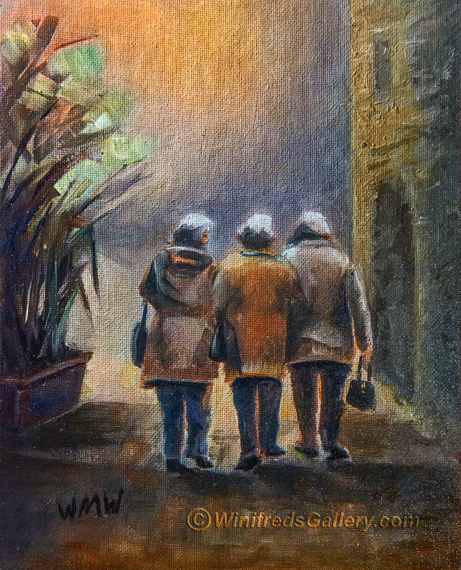 "Three Friends Walking"
Ultimately I decided on a textured side of a building and a curved doorway. I went with that idea. Still, what to put in front of them. I didn't know for the longest. I rather enjoyed the ethereal look of "space". Finally, I envisioned it as an open landscape – leaving it largely to your imagination. I could play with interesting color for a sky and create just a hint of a horizon line. I would allow the painting to maintain these few and simple elements – resting on Interesting light, shadow and color. I'm making baby steps with my oil painting and so long as I do, I hope to progress.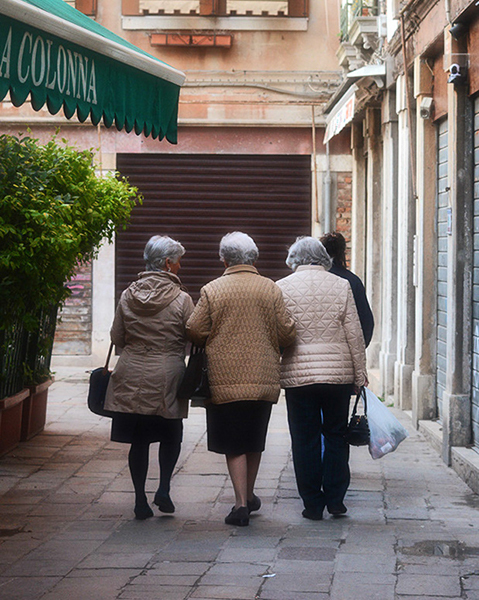 Reference Photo ( hemmed in by their environment)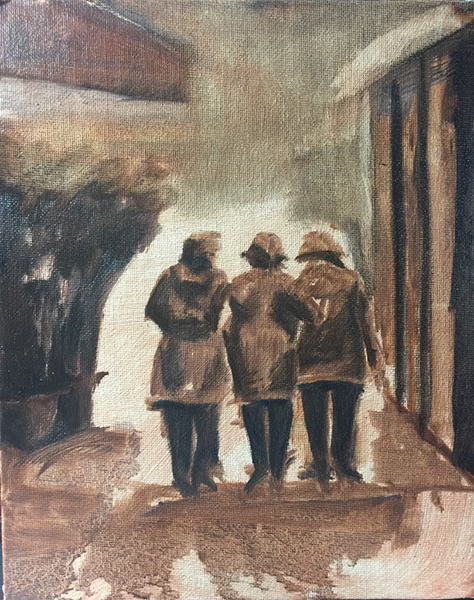 Tonal Value Sketch – a great way to see what doesn't work!
Thank you for visiting my Blog! Another post will be coming quickly – colorful buildings, boats and a canal in Murano, Italy – many many boats!! I never painted so many boats before! Winifred
Related Images: