Sunflowers in Blue Room – 9×12 Oil Painting on Gessoed Board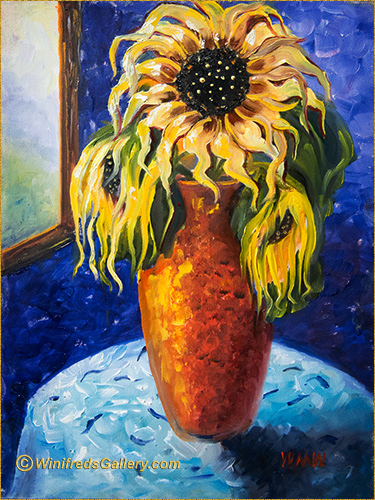 I was in the mood to paint sunflowers this week. I do love them. I had something in mind and made a sketch on my board. Then I thought – now what. What colors will I use? It would be easier to figure this out digitally than in oil – then I would paint it. I photographed my sketch with my phone and brought the sketch into painter to do a rough paint sketch. Below is the result. I like both of my drafts -great light!
I then printed it on a high gloss paper which gave me vibrant color contrast and detail. It would be my visual reference image for my painting – at least loosely so.
It was then late and I sat down to watch "So you think you can Dance". One dancer wore coral red paints, a teal blue shirt and a blue violet hat. WOW! The colors popped and it was not a color combination I had been conscious of before. I spent some time thinking about the colors and what gave them the ability to compliment and harmonize. I thought – I can still do that. I finished watching the amazing dancers and went back to my computer.
Above, I created a colorize layer and painted in my "dancer colors. It was an improvement – certainly for the subject matter and style in which I would paint. One just never knows where the next inspiration will be found. I didn't really mean to go to the tip top if the board on my final oil painting at the top of the page. It didn't start out that way. I still like it. After all, magazines cut of the top of all the models heads these days. It's a thing! I did get every petal in the frame however!!
~~~~~~
Sunflowers on Black Canvas – 6×8 Oil Painting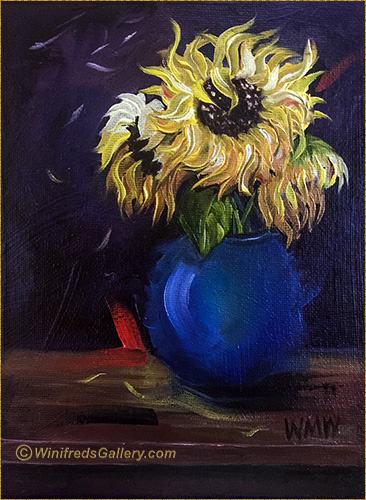 Prompted by a video, my first sunflowers were painted on black canvas. I've never done this before. It's almost easier in a way, because the darkest values are in place.
I like the painting and the idea. I will certainly do more paintings that way. Interesting I had already purchased Black Gesso and had covered several boards knowing this was something I wanted to do. So, I was ready.
Related Images: