How do we move forward in 2012?
It doesn't have to be profound and if history is any validation those resolutions do not work.   Personally I believe in a couple of things.  One is intention.  For me, it is my intention to be not a good painter but a great painter.  What do the dance or piano virtuosos do?  They practice, practice. practice – 8. 10, 12 hours per day.  The fact is that on most days I do that too.  I love to paint so it is not a chore.  I have a small but high end clientele.  the high end does not necessarily mean they are all wealthy but they want great work and my higher end products.  They can see the difference in what I provide as opposed to other products available to the.  I truly care about the art I create for my clients. whether it be personal portrait art or another product I value, which is creating business portraits for distinguished women in my community.  I give my clients the best of me and I work to make that happen.
Back to baby steps and practice.   Yes, most days, I spend 8 to 16 hours at my computer either creating a client painting or just practicing.  I go through different paint brushes I have  collected.  I make marks on paper, I try a brush with different papers because this will determine the look of the stroke.  Often I just doodle.  You have seen some of my doodles in previous post.  Well I have more today.  I start with a blank canvas.  I can do no wrong because it is simply a practice  but it begins to set in my head what various brush/paper combinations looks  so that when I am actually working, I know just how to use my tools.   I am a firm believer in building my tool kit.   This image is the result of tonight's doodling.  It's trees again in a pastoral environment.  I must miss my farm, I seem  to keep recreating a similar environment in my images.  Rolling hills, a 100 year old farm house,  apple trees. I started making marks tonight and this is what happened.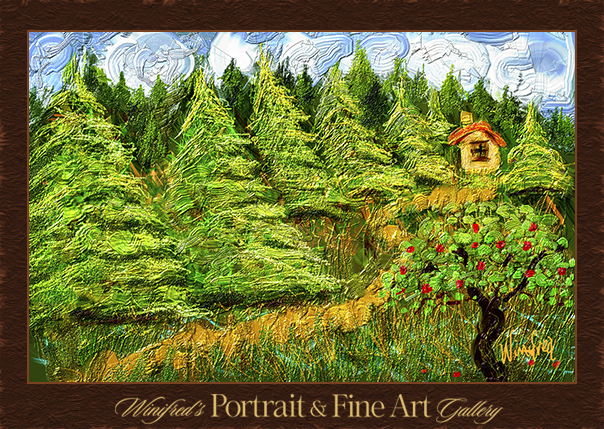 I love the thick impasto brushes with all the texture this gives.
In the image above I used various brushes by Skip Allen in his thick impasto brush set.
This skill building does not occur over night for any of us.  It is a journey.  And for me, with or without a photo, I love to paint. Little by little, day by day we learn. In my workshops, I always explain you can get started now and in a couple of years, you will likely be creating some pretty nice digital paintings or you can not get started and in a couple of years you will still have no clue how to make the Paint software sing.  So, just get started.  Even with baby steps, slowly but surely, you will start to see the results you want.
What ever your intention, stay focused and practice – you will achieve results – guaranteed.  Happy New Year and may all of your intentions come to fruition.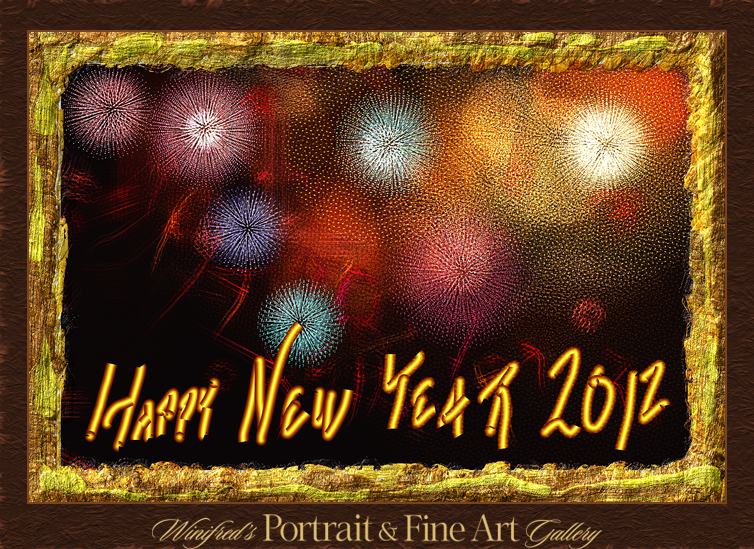 Again, just playing with brushes.
This is by no means a great image.  I simply  went looking for brushes which might simulate the appearance of fireworks. I went through all the brushes in the set tonight.  I have not had them very long. This was the point of the exercise – just to see.
I used David Gells, sparkling glo brush from his Concept Glo Brush Set for the fire works,  and Skip Allens Gold brushes for the gold border – I referred you to those in a previous blog.
Well, that's it for 2011.  I wish you a very happy, accomplished and prosperous 2012.  Winifred
Related Images: