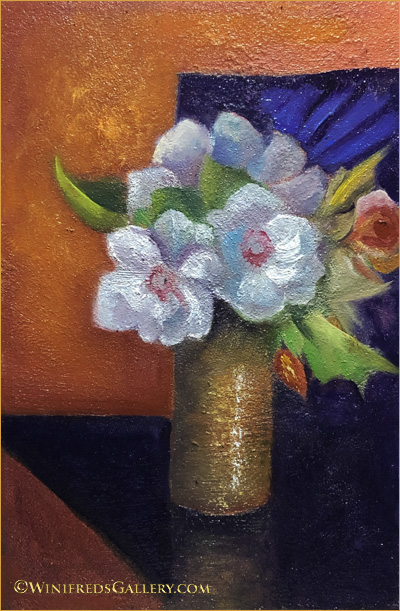 The photo reference for this painting was taken in my kitchen with the vase sitting on a counter facing the window. The refrigerator and more counters were behind me. When I looked at the photo, I noticed interesting shapes. Honey colored cabinets were upper right and formed a shape – another shape was formed by the area under the cabinets extending down to the back counter. The stainless refrigerator was upper left and formed a shape. Then there is the counter the vase rest on and the lower triangle is the side of the counter which extends to the floor. I could combine some shapes and leave others separate. I knew I could work these shapes into the overall design if the painting. The vase was ceramic with stripes of color. I tried to work with the stripes this but It didn't work. It's interesting how simplifying the color of the vase and creating highlights give it the illusion of a gold/bronze colored metal. The design of the flowers and the design on the dark background just showed up in my head. I welcome these creative visions whenever they wish to enter and guide me. Below – roses.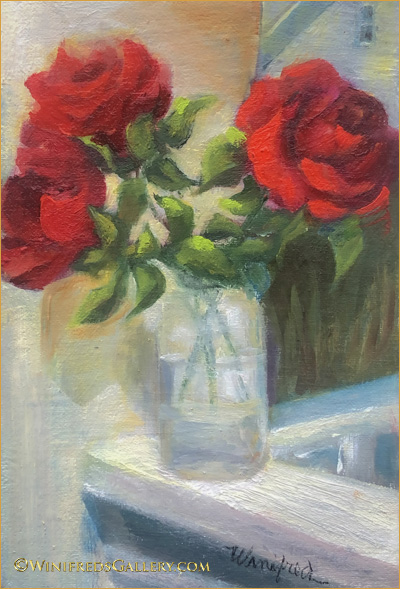 I'm glad I spent so much time and effort this past year, making roses a friendlier subject to paint. The softness of this painting comes from using a "mop brush" on the painting before it is dry to soften and blur edges. This brush can be used selectively or all over – depending on the look I want to give. I enjoy the feeling of the the heat and sun on these roses.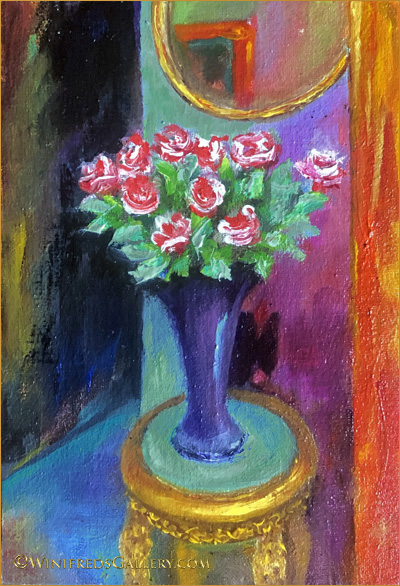 Lots of intense color. I love that I can create "gold metallic" where none exist. This painting took way to much time, but it captures a certain space in my home which I see everyday. The orange strip on the right is the edge of a bookcase full of art books.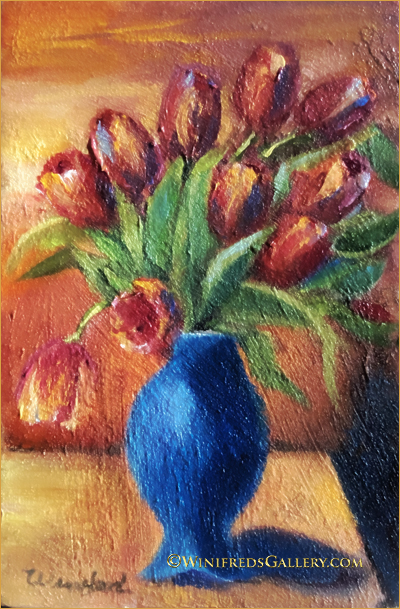 I love texture but there's really not this much texture in this painting. This texture only reflects the way the light hit the texture and exaggerated it. I should have rephotographed it – but I didn't. Just think of it smoother. The vase was a cream color – and it did work but decided I an intense blue would be more interesting. You know what VanGogh said about blue, orange and yellow. It's true – those colors are beautiful together.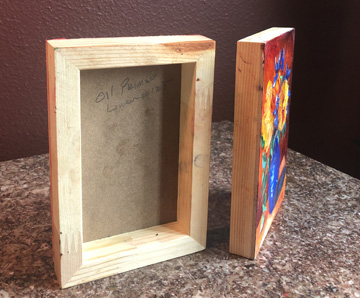 I've referred many times to "cradle box" past couple of weeks and I've been ask – "what is a cradle box". Above – you can see what it is. I've now begun to paint the edges. There seems to be no more small cradle boxes remaining on the planet!! I've looked everywhere I know to look – mine were purchased more than 2 years ago. Sizes now seem to start at 8×8 inches.
Hope you're enjoying this small painting series with me. Only 2 cradle boxes remain blank, which I will paint this week. I could conceivably repaint a larger painting from any painting in this series because I have worked out the color palette and design. Many artist do this so as not to have to experiment with design and color in a large painting. Certainly this makes a lot of sense. I will take this under consideration. (: Hope you're staying safe.