Personalized Digital Painting Workshop  – a training process which works quickly and effectively to get you painting, portrait or fine art, from a photo or from imagination.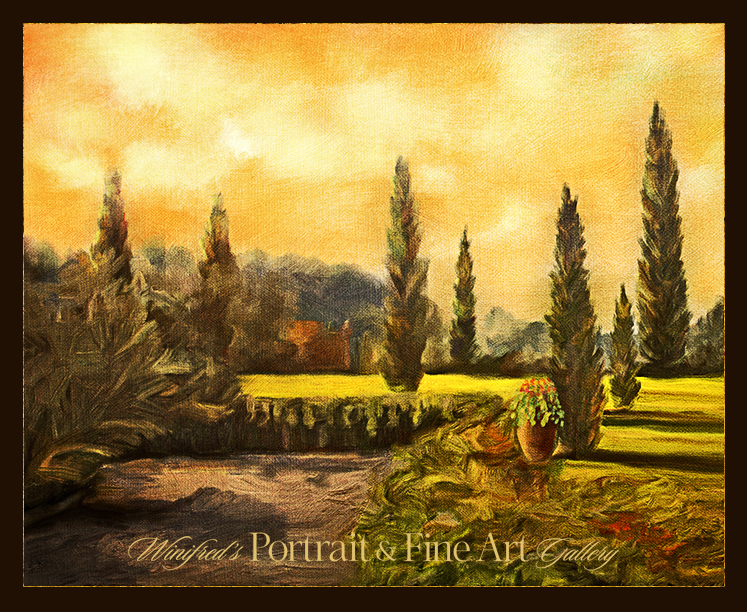 I am throughly enjoying training students to begin or to enhance there ability to paint  digitally – "Almost One to One". I find that students feel comfortable to ask questions without embarrassment and to pursue  knowledge from "just where they are" in this very private and personal workshop environment.
Training and attention is very specific to your individual needs. I work with not more more than 3 students at a time and at times " one to one" – privately.  I am currently working with an interesting lady in Pennsylvania. She has been a traditional painter for 20 years or so and has even written and published a book on traditional painting. She is not a photographer, which is the path of so many into digital painting. She wanted to expand her capacity to include digital painting. She searched the internet and decided that my training approach and my painting style was what she was looking for.
She purchased the 30 hour training package. She does not own Photoshop, had not yet installed Painter on her computer is a bit uncertain about her computer skills in general.  We got her all set up with Painter 12 and its updates. She purchased her Intuos 5 and we were ready to begin our GotoMeeting sessions.
Our first session was 3.5 hours.   I believe that working in short sessions prevents burnout when consuming lots of new technical information while at the same time allows sufficient time to synthesize it.   I gave her several  assignment after her first session.  We would not be able to meet for another full week, because of her schedule – which is unusual. Normally we meet 2 to 3 times per week. I decided I wanted to reconnect with her later, the evening of  her first training day after she had time to work on her assignment. I wanted to make sure she understood enough to do her assignments in order not to have unanswered questions for a full week. To my delight, she had completed her first assignment which included, painting using different paper textures, using patterns, using a variety of brush stokes and working on layers. WOW!! She was proud and so was I.
We can schedule sessions to fit your schedule.  Please call me at 360.779.1375 for additional information. Also visit my STORE for workshop options and prices.   New workshops are scheduled nearly every month.
Related Images: